Shoe Brands
There are a lot of women's athletic shoe brands on the market – more than I thought when I started to compile a list.  This webpage lists the different brands that are available with descriptions of each one, including the varieties that each offers for different sports. 
If you like a particular shoe brand, this will give you a better idea if they carry a shoe for the sport you are interested in.  You will also find some historical information about many of the shoe companies, as well as what they may be best known for.
Just click on the link to the brand of shoe that you want to read about, and it will take you to its description below.  Once you read the description, if you want to go to that brand's page, select the page link by clicking on the brand name.  That will take you to the women's shoes page for that brand.
I've tried to make this a pretty comprehensive list of shoe brands, but if you know of any that I've missed, I will be happy to research them and add them to the list and descriptions.  Just send me a comment through the contact form at the bottom of any page of this website.
Why Are Nike Shoes So Popular?  Read more here.

Note: As an Amazon Associate, I earn from qualifying purchases.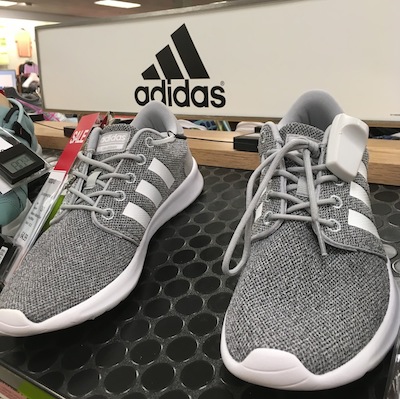 Adidas is the second most popular athletic shoe brand, following only Nike.
Adidas offers shoes in a great variety of styles for women, including those that are geared toward specific sports such as basketball, golf, running, soccer, tennis, track and field, training, volleyball, walking, and even football. 
Adidas shoes incorporate a revolutionary Torsion technology for better stability in the midsole.  The Torsion system basically supports the midfoot during linear and lateral movements to decrease stress on the heel of the foot.
What I like about the Adidas website is that you can search for very specific categories.  To start with, you can obviously narrow it down to women's rather than men's and shoes vs. accessories.  But then you can choose from a long list of shoe types, sizes, specific sports, colors, and partners as in "Adidas by Stella McCartney" or Caroline Wozniacki shoes.  Then you can even choose what the shoes are best for, such as firm ground, mountain sports, or turf, and surfaces like road, trail, or treadmill.
Fun Facts for Your Feet:
The history of the Adidas company goes back to 1920 when two brothers, Adi and Rudolph Dassler, began making sports shoes in their mother's home.  American Jessie Owens won four gold medals at the Berlin Olympics in 1936 wearing shoes made by the Dassler brothers.  The brothers split in 1949 when Adi started his own company – Adidas – and produced the first shoe featuring the well-known three-striped logo.  Rudolf Dassler found his own success by forming a competing company called PUMA.
The Adidas Stan Smith shoe, named for tennis player Stan Smith, was the first to include a tab in the tongue to thread the laces through.  Smith had asked for something to be done to keep the tongue from sliding around, and his requested design element is now common in nearly all athletic shoes.
When I was a kid, I remember people saying that Adidas stood for "All Day I Dream About Sports."  Has anyone else heard that rumor?  The name obviously comes from the names of the company founders. 
***Read my review of Adidas Adizero Adios 3 here. 

The Aetrex company was founded in 1946 and was originally known as Apex Foot Health Industries.  It changed its name to Aetrex Worldwide in 2005 and is based in Teaneck, New Jersey.
These shoes are advertised as "the healthiest shoes you'll ever wear."  The company makes a variety of sneakers, including running, fitness, and athleisure styles.  
The "healthy" features include built-in orthotic support to help properly align your knees, hips, and back; memory foam cushioning; and breathable mesh.
Several Aetrex styles also feature patented Mozaic Customization.  This technology is supposed to help relieve pressure in the areas of your feet that have discomfort by allowing you to peel away squares of the insole.
Most of the styles come in regular and wide widths.  Prices range from about $90 to $150.
Here is an example of an Aetrex running shoe.
In 2002, Aetrex created a digital foot scanner called the iStep.  This is a patented foot scanning technology that is designed to quickly and accurately measure your foot size, arch type, and pressure points, and then select the footwear and/or orthotics that would be ideal for your feet.  The iStep service is offered free at thousands of Aetrex locations worldwide.  You can visit the website to locate a store near you.
Aldo is known for its heels, boots, and other stylish footwear, but the company also makes athletic shoes, casual sneakers, and fashion sneakers.  The athletic shoes are actually referred to as "street sneakers" and seem designed less for performance and more for style and comfort.
Here's an example of one of their sneaker styles.
The shoes feature rubber soles, knit lightweight uppers, and cushioning, but they are not specifically created for running, walking, or any other intense sports.  If you're more concerned about fashion than function, then these may be right for you.
Reviewers say the sneakers are very comfortable, even those who are on their feet a lot.  Sounds like they fit snugly, so keep that in mind if you're not sure about sizing.
Aldo was founded in 1972 by Aldo Bensadoun in Montreal, Canada.  In 1993 it expanded to the United States.  Today Aldo operates more then 3,000 stores in over 100 countries around the world.
If you're interested in shoes made of sustainable materials for the sake of the environment, then these may be the ones for you.
Allbirds bills itself as the world's most comfortable shoe.  The company's founder is a native of New Zealand, where merino wool is prevalent.  He thought this sustainable material would be good for the footwear industry, and he brought in an engineer/renewables expert to help him design a wool material that is now used in Allbirds shoes.
The shoes have no "flashy logos or senseless details" and incorporate simple designs using materials found in nature.  Each pair of shoelaces, which you can buy separately on their website, is made from one recycled plastic bottle.  Allbirds makes casual shoes as well as wool runners and tree runners.
The wool runners are flexible, supportive, soft, and cozy.  The specially designed wool is supposed to be temperature regulating and moisture wicking without being scratchy like some traditional wools.
The tree runners are made with a mesh textile derived from "responsibly grown and sustainably harvested eucalyptus pulp."  They are designed to be light and breezy and conform to your feet and your movements.  The company even suggests wearing them without socks to get the most advantage from the cooling effect.
Allbirds only has stores in New York City and San Francisco.  Otherwise, order online directly.  The shoes come in whole sizes only, due to the form-fitting materials that the shoes are made of.  Their online Fit Finder will help you choose the right size, depending on the style you are interested in purchasing.
Allbirds offers a unique 30-day guarantee.  You can try their shoes for 30 days, and if you are "not walking on cloud nine" they will take the shoes back, no questions asked, even if you've worn them "in the wild."
The company also uses recycled materials in packing and shipping, and they donate their lightly used shoes to Soles4Souls.
***Read my review of Allbirds Tree Runners here.

The founders of Altra were athletes and running store managers who thought the design of most running shoes was actually hurting runners.  They created a new type of shoe with a cushioned Zero Drop platform and a wider toe box.  The company believes that this design keeps your feet in a more natural position and allows your toes to relax and spread out, reducing injuries.
Needless to say, Altra concentrates on running shoes.  They carry women's styles for neutral running, dynamic support, trail running, and everyday use.  They also have a new design called IQ that they refer to as a "running coach in a shoe."
The IQ shoe is equipped with sensors that measure your running cadence, landing zone, foot force, and contact time.  The shoe then monitors these movements through an app and provides feedback to improve your running technique.  Check out an example here.
Although the shoes have Zero Drop, they still provide more cushioning than other shoes made this way.  And the new "smart shoe" model looks like the next big thing that shoe companies will be offering and trying to improve upon.
Asics shoes come in models for women for all the usual sports – running, walking, training, volleyball, tennis, golf, cheerleading, track and field – and they also offer field sports and multi-court shoes.  Asics was the first company to use gel technology to replace some of the dense midsole foam in its running shoes to make them lighter.
The Asics website has a pronation guide to show which of its shoe styles are best for your foot type.  If you're not sure which type of foot you have, feel free to refer to the Foot Type section of this website for assistance.
The Asics site also includes a shoe width guide explaining that the standard women's shoe width is B and that shoe boxes and labels will only indicate if the shoe is a width other than standard.  Extra width is available in many of their running and training shoes, but the website goes on to say, "In some cases, men can wear women's styles to achieve a narrow fit and women can wear men's to get a wide.  Please note that the differences of width between narrow, standard, wide, and extra wide are usually only a couple millimeters and are proportional to the size of the shoe.  Most additional width will be found in the forefoot."
This information about shoe widths contradicts what I discuss in the Differences Between Men's and Women's Shoes section of this website.  If you are interested in something other than a standard width shoe, I would suggest trying these shoes on and seeing for yourself what works best rather than picking a size online and hoping they fit.
Fun Facts for Your Feet:
The name ASICS comes from an acronym for the Latin phrase "Anima Sana In Corpore Sano," which means a Sound Mind in a Sound Body.  The company believed that the best way to create a healthy and happy lifestyle is to promote total health and fitness.
The Asics tiger-stripe design was created as an eye-catcher for the 1968 summer Olympics in Mexico, the first to be televised in color.
If you've heard the APL name, it could be because their men's basketball shoe was banned for awhile by the NBA due to its Load N Launch system.  The technology is designed to improve the vertical leap of athletes, and the league felt the shoe could create an "undue competitive advantage."
This shoe calls itself "the intersection of performance and fashion."  The brand focuses on technology to improve running propulsion, reduce the energy required for running, provide extra cushioning, and extend the life of the shoe's midsole.
Others have called it a high end, boutique sports shoe brand.  The shoes sell at many luxury retailers, and several designs are handmade in Italy.  Prices start around $140, with some styles in the $300 or $400 range.  There is even a special order pair made from "the finest Nile crocodile dipped in 24K pure gold."  The price is $20,000.  
APL makes running shoes and training shoes for women.  The website indicates that all their shoes are unisex, with the women's shoes one and a half sizes smaller than the men's.
Here's an example of an APL running shoe.
Avia shoes are famous for their revolutionary Cantilever soles.  Created in 1979, this technology centers the heel of the shoe over a sole that is concave, allowing the sole to act sort of like a trampoline to soften the force of impact.  The soles also add support and provide a return in energy to your stride.
Avia shoes come in fewer varieties for women, with just aqua, cross training, running, walking, and studio listed as categories on their website.  There is only one shoe in the aqua section, and it says it's for the "aqua exercise enthusiast."  I didn't know you could buy a shoe for aqua exercise, but this looks like a pretty nice one if that's your thing.
Here's an example of one of Avia's running shoes.
This company specializes in tennis products and accessories, so the shoes they offer are for tennis only.  Women's tennis shoes are available for all types of surfaces, including grass, clay, and hard court, with varying levels of support and stability.
The Babolat company was formed in 1875 in France when Pierre Babolat invented strings for tennis rackets, a year after the official invention of the sport of tennis.  The company is known for its tennis rackets and strings, and has provided them for such well known players as Arthur Ashe, Pete Sampras, Andy Roddick, and Rafael Nadal.
Babolat introduced its first shoe in 2003.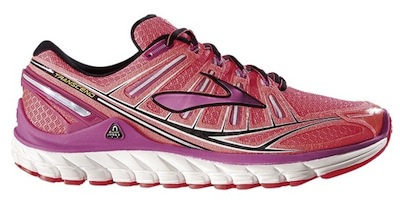 Judging by the website address and the description of Brooks, the company concentrates on running shoes rather than shoes for other sports.  (They do have shoes for walking and lifestyle too.)  Since they focus heavily on running shoes, they get very specific with their offerings. 
You can get shoes that are soft and protective, responsive and springy, or lightweight and flexible.  The shoes come in narrow, normal, wide, or extra wide with different levels of support.  You can also filter your search by flat, medium, or high arch, type of running, and drop.
Brooks has something called the True Blue Guarantee that allows you 90 days to use your shoes, including sweating in them as much as necessary, and then returning them for free if you are not 100% satisfied with them.  Sounds like a pretty good deal.  They also have a product testing program in which customers can give feedback to help with future product design.
Champion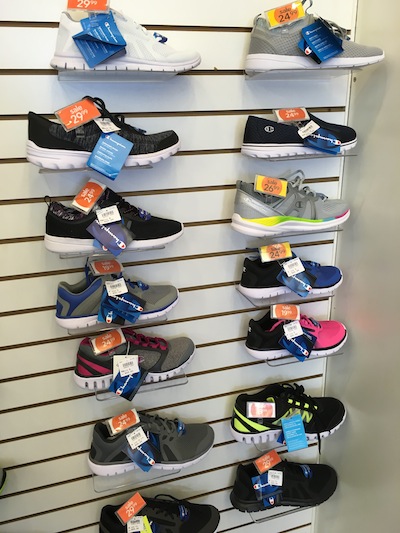 You won't find shoes on the Champion website.  It features athletic clothes and accessories.  The shoes are available on Amazon and at Target stores, and they have a lower price point than your typical athletic shoe brands.  They all sell for less than $40, with most styles coming in at $25 to $30.  They are available in regular and wide, walking, running, training, and casual styles, in a variety of bright and fashionable colors. 
The Payless website gives ratings for the shoes from one to five stars, and there are plenty that fall into the higher rating levels.  I also found other online reviews – some say this brand isn't durable because it's made with cheaper materials, but others say they can't justify spending $100 on athletic shoes when these are just as comfortable.
They may not offer the same amount of support or last as long as more expensive athletic shoe brands, but if you are not ready to make that kind of financial investment you may want to give these a try.
Believe it or not, Converse, Inc. is a subsidiary of Nike, Inc.  Converse filed bankruptcy in January 2001 and was purchased and restructured by Footwear Acquisitions in April 2001.  Nike bought Converse from Footwear Acquisitions for $309 million on July 9, 2003.  For this reason, when you visit the Converse website, you will see information about Nike as well.  If you're not careful in your search, you will find yourself looking at Nike products when you are trying to find Converse items.
We all know about the famous Converse Chuck Taylor All-Star sneakers.  Converse actually makes unisex and women's shoes in low, medium, and high top, as well as custom shoes.  You can customize color, laces, eyelets, tongue, midsole, racing stripe, patch, heel stays, and lining, and you can add your own personal ID.
Years ago, Converse was the go-to shoe for basketball players, including Larry Bird and Magic Johnson.  In 1985, Converse introduced the Y-Bar in its Maverick shoe, and it was described as the most technologically advanced support system.  It was designed to provide protection from injury and help with stability.
These days the shoes seem to be geared more toward lifestyle rather than wearing them for a specific sport.  The flat bottoms don't lend themselves to running, and most styles have pretty thin support in the midsole and upper.  They do make one type called modern that has a thicker bottom and looks more like a walking or running shoe, but the website does not claim this.
I had not heard of this shoe brand until a visitor to my website wrote a review about their golf shoes here.  In addition to golf shoes, DAWGS also makes walking shoes and "Spirit Shoes" that are lightweight but designed for comfort and support.
The shoes have thick, cushioned heels to absorb shock, rubber soles, arch support, and an adjustable strap to handle most foot widths.  The shoes look similar to Crocs and come in a variety of fun colors.  Most styles do not have laces.
The Spirit Golf Shoes are like the regular Spirit Shoes, but with golf spikes.  DAWGS also makes crossover golf shoes that are designed for indoor or outdoor wear.  They are made of canvas and have laces, thick rubber soles, and traction nubs rather than spikes.
The word Diadora comes from a Greek word meaning "to share gifts and honors."  The company has been around since 1948 when they started making mountain boots and work boots.  Now they claim to make "intelligent sports shoes using top quality, technical materials and cutting edge designs."  They have running, tennis, and cycling styles for women, and also several unisex sports shoes and unisex running shoes.
With everything I've learned about the differences between men's and women's shoes, I'm not sure that a unisex shoe would offer the best fit or support.
When you look at individual shoes on the website, the sizes given are based on UK measurements, but you can easily find the US equivalent by clicking on the size chart.
William Scholl started his company with a wooden sandal in the 1960s, and then he began making other types of shoes to promote healthier feet.
Dr. Scholl's athletic shoes fall under their category of "sport."  They offer walking, training, and lifestyle shoes, as well as what they call a "sneaker."  The sneakers seem designed for everyday comfort rather than for a specific sport.  Most of the styles feature memory foam and run lower in price than your typical athletic shoes.
The website indicates that their walking shoes provide comfort and versatility for an active lifestyle.  However, if you are looking for shoes that are specific to running or any other sport, this brand is not for you.
Dunlop
Dunlop offers women's shoes for golf, tennis, and training.  The company was founded in 1909 and concentrates on golf, tennis, and squash equipment.  They have stores in many countries, but no physical stores in the United States. 
When I first researched these shoes, I found a Dunlop website at http://store.dunlopsport.com/footwear/womens-footwear, but now the site isn't working.  The shoes are available on other sites, such as sportsdirect.com, Amazon, and ebay.

Fun Fact for Your Feet:
In 1929, Dunlop introduced the Green Flash, the first shoe specifically aimed at tennis players.  Fred Perry wore the shoe when he won his three Wimbledon titles in the 1930s.
Everlast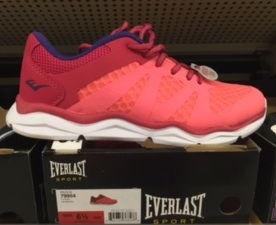 Everlast is a brand known better for its boxing gear and accessories, but they also make some athletic shoes.  The Everlast website concentrates on the boxing gear alone, but women's shoes are available at Kmart and Sears stores.
Everlast, like Champion, is a brand of shoe with a lower price point, and women's styles include running, walking, "athletic," and "sneaker."  Prices generally run from $15 to $30.
Most online reviews of the shoes say they are comfortable and worth buying for the price, but a few say they are not well made.  If you are willing to try something at this low price point, you just may have to replace them more often.
Fabletics is a brand of activewear co-founded by actress Kate Hudson in 2013.  Most of its retail sales are offered through a subscription-based online business, with a few retail and pop-up stores. 
In the fall of 2017, the brand began making athletic shoes in response to customer feedback.  The styles include running shoes, court shoes, high tops, and slip on casuals, all with memory foam insoles.  The designs focus on comfort at an affordable price, and "super cute details" such as supportive straps and reflective trim.
Most reviews of the shoes indicate good design and comfort, but quality and durability aren't rated as highly.  Some describe the material as "flimsy" or not supportive enough for the movements of intense workouts.
In addition to selling products almost entirely online, Fabletics has a VIP member system.  If you sign up, you have to share your style and size preferences, and then you will receive personalized product recommendations.  VIPs save up to 50% off regular prices and get free shipping on orders over $49.95.  But you have to visit the website between the 1st and 5th of each month to shop or skip the month free of charge.
If you do not shop or request to skip the month, Fabletics charges you $49.95.  This amount can be used toward your next purchase.  Although you have no obligation to buy and you can cancel your VIP membership at any time, if you forget to shop or skip the month, you will be billed.  
I found several stories about people who have been unhappy with this VIP program for a variety of reasons.  Some have had difficulty canceling their membership.  Others complain that they can't find new items to buy often enough to use their credits.  Or they have trouble meeting the free shipping threshold, and the regular shipping prices are very high.  And of course it can be difficult to remember to go to the website early each month to shop or request to skip the month.
I would suggest doing some research to decide what works best for you.  If you just want to buy one pair of shoes, then the VIP program wouldn't be a good plan.
Fila's history can be traced back to 1911 when the Fila brothers began selling quality textiles in northern Italy.  This led to sportswear and shoes, starting with the sport of tennis.
Fila now makes women's shoes for running, tennis, trail, and casual wear.  The website actually offers a printable size guide that you can use to physically measure your own feet to get your precise size.  There is no mention of width, so it seems they must offer only the standard width shoes.
Footjoy makes shoes for golf only.  They come in spiked or spikeless styles, a variety of colors, and all width options.  They even have waterproof and customizable golf shoes.  Footjoy used to make other types of athletic shoes, but now they concentrate on golf shoes.
The website has a comprehensive shoe fitting guide with answers to a lot of common fit questions.  The FJ Performance Fitting System helps customers find the right shoe to fit their swing, and it even says that with the right shoe, you can increase your speed and power.
The company has been around since 1857 and has been the leading golf shoe on the PGA tour for 60 years.  It is also the number one women's golf shoe.  With their focus solely on golf shoes and apparel, it would seem that Footjoy has the knowledge and experience to offer the best shoes for the sport.
I had never heard of this shoe brand until I saw an ad for them in a magazine.  The shoes feature a patented VersoShock technology that is supposed to absorb shock from the impact of your feet hitting the ground and then convert it into positive energy to take your next step.
The cushioning in theses shoes is supposed to help people with health issues such as plantar fasciitis, arthritis, neuropathy, heel, back, and knee pain.  The shoes range in price from about $100 to $150.  Occasional sales on the website offer some styles for around $50. 
The company was founded by Alexander Elnekaveh, an inventor and mechanical engineer, who was trying to help his nephew find a comfortable shoe after he was treated for a cancerous growth in his heel.  He created his first design in 2004, and in 2008 he began manufacturing and distributing his patented shoes.
Most styles of this shoe have very thick soles designed for cushioning and comfort.  Reviews I have read indicate that customers find them comfortable and helpful for their foot health problems.  There are several reviews that mention the shoes wearing out quickly after only a short time – specifically tearing in the seam – but the company was quick to replace them for the customer. 
Head makes women's shoes for tennis, squash, and raquetball.  There are not many styles to choose from, but the shoes advertise technology that allows for faster and more flexible movements.  They say they are flexible, lightweight, and comfortable, and the NITRO PRO model features the HEAD Cooling System in the sole to keep your feet cooler while you play.
Since the company chooses to focus on tennis more than any other sport, they probably have a pretty good idea of what works best for the sport.  That being said, there are several tennis players who use Head tennis rackets who don't wear the shoes, such as Maria Sharapova, who wears the Nike brand.  But I suppose it's all about endorsement deals, and the fact that Nike doesn't make tennis rackets.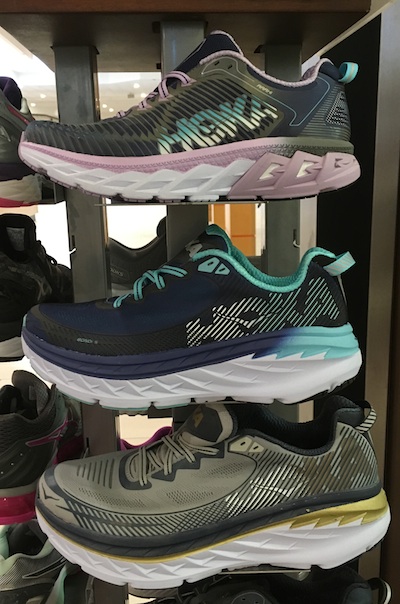 I have to admit that I had never heard of this shoe brand until I started doing research for my website.  The brand focuses on running and hiking/trail shoes, and this shoe is definitely unique, or as the website says, "crazy-looking." 
The bottom, or midsole, is twice as thick as a standard running shoe.  The thickness offers more cushioning and comfort, yet claims to be lightweight as well.  The shoe uses what they call "meta-rocker geometry" that is similar to a rocking chair, and it is designed to support your natural running gait and create a smooth roll when you stride.  Your foot also sits more deeply in the midsole, which offers stability to a wide variety of running styles.
I recently got a closer look at these shoes at a local running shop.  I was very surprised at how light they actually are, despite the thickness.  I could see and feel how your foot fits into the midsole and is supported on every side, which discourages heel striking.

You can read more about the technology featured in this shoe at http://www.hokaoneone.com/technology.html. 
If you are unsure about trying this unique shoe, Hoka offers a 30-day challenge.  Essentially, you can buy the shoes, use them as much as you want within a 30-day period, and then return them if you are not completely satisfied.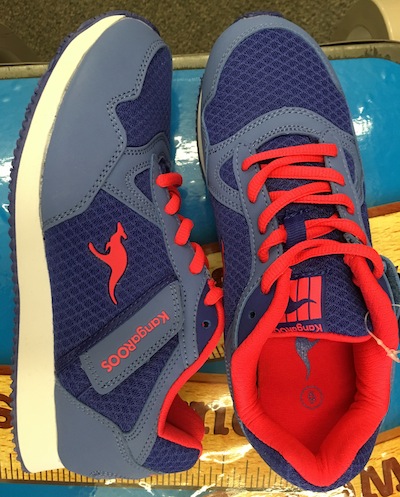 Those of us "of a certain age" will remember these unique shoes with the zippered side pocket for carrying coins or other very small items.  They debuted in 1979 when an architect and avid runner named Robert Gamm wanted a pair of shoes that could hold his locker key and a few coins while he ran.  The sneaker with the pouch made it possible for runners to wear lightweight clothing without pockets.
Although you can still find the shoes today in over 60 countries, including at Payless stores in the United States, I can't imagine how useful the side pockets would be anymore.  They are a little too small to hold a cell phone!
To find more information about specific shoes or to buy them online, you have to click on the Payless link on the website.  It looks like the KangaROOS available for women include joggers, court shoes, and track flats.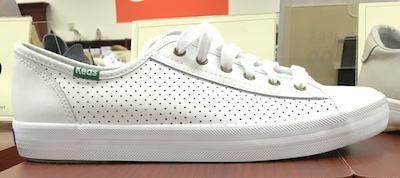 Keds were the first athletic shoes to incorporate rubber and canvas rather than leather and wood.  The company began making shoes for women in 1916 with a goal to create simple yet chic footwear.  Although the shoes are lightweight and offer memory foam and breathable linings for comfort, the shoes are more for casual wear and style than for serious athletic pursuits.
Other than the Ace Leather design that can be worn for tennis, the styles do not feature the support and control that other brands of athletic shoes provide.  If you are looking for comfortable, stylish, sporty shoes, then Keds might be a good choice.  But if you are looking for running shoes or something for a competitive sport, this brand is probably not the right fit.
K-Swiss is based in Westlake Village, California and concentrates on the sport of tennis with subcategories of court fitness, court style, and court performance.  You can search for styles based on comfort, durability, stability, antimicrobial, cushioning, lightweight, and memory foam.  K-Swiss also features shock dispersion technology called "TUBES" in some styles.  Most of the shoes are leather, but there are a few canvas and textile styles.
The two Swiss brothers who founded the company in 1966 were inspired by leather ski boots, and K-Swiss became the first all leather tennis shoes.  They say the use of leather offers a tight fit that supports active side-to-side movements, which are important in both skiing and tennis.
If you are looking for a shoe for a sport other than tennis, then K-Swiss is not for you.  I don't think you can actually play tennis in their platform style shoe though! 
The Lacoste company was founded in 1933 by René Lacoste and his business partner, André Gillie, with the creation of the famous polo shirt featuring the iconic crocodile logo.  In 1958, Lacoste introduced a lightweight tennis shoe blending performance and style.  They now make casual slip-ons, trainers, and tennis shoes in both leather and canvas.
The crocodile logo was partly inspired by René Lacoste's nickname, The Crocodile.  He earned his nickname from an American reporter who had heard that Lacoste made a bet with his coach over an alligator skin suitcase if he won the 1932 Davis Cup in tennis.  He didn't win the bet, but he started having crocodiles embroidered onto the blazers he wore to his tennis matches.  In the French language, "alligator" was translated into "crocodile."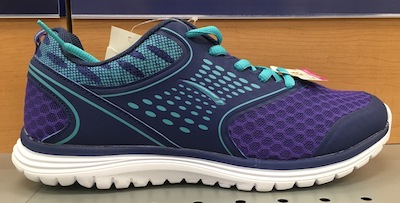 I wasn't sure if L.A. Gear shoes existed anymore, but there are a few styles still available.  They have one running shoe for women, and they brought back the original LA Lights from the 1990s.  This was the first light-up shoe to hit the market, and you can still get them with updated colors and materials.
L.A. Gear was created in 1982 and the shoe has been known for its flashy and colorful styles.  Its founder, Robert Greenberg, started out making workout shoes for women and later began marketing to men as well.  He went on to found the Skechers company in 1992.  
After several marketing problems and bad luck, L.A. Gear actually filed for bankruptcy in 1998.  They have tried several times to make a comeback, and the few styles that are available now are the company's latest attempt. 
Lotto is an Italian company that makes shoes for football, running, soccer, tennis, and lifestyle.  There are some store locations in the United States, or you can buy online.  The website separates the shoes by sport, but men's and women's shoes are mixed under each category.  The shoes feature a variety of technology types that help with cushioning and stability, such as the first concave form sole. 

Lotto also offers "the first and only laceless football boot in the world" and you can pick the color that matches your personality.
MBT stand for Masai Barefoot Technology, and the company that makes the shoes is Swiss Masai.  MBT calls itself physiological footwear because the shoes feature a patented curved sole.  The sole is made up of five components that promote a gentle rolling motion or a natural instability that makes you feel like you're walking on a soft, uneven surface.  Some wearers describe it like walking on a sandy beach, similar to "the natural walking environment of the Masai in Kenya."
The shoes have three different levels of this rolling motion – Activate, Dynamic, and Performance – and an index helps you decide which is right for you.  The technology promotes soft heel landings, absorbs shock, and allows your foot to roll forward naturally as you step.
MBT makes women's shoes for running, fitness walking, training, and comfort lifestyle.  Prices range between $100 and $200.
You can watch videos on the shoe's website here to learn about the design and benefits of MBT shoes, and the preventive, strengthening, and recovery exercises you can do with them.  Because of the unique curved sole of these shoes, your body would probably need a short period of adjustment to break them in and decide if they're right for you. 
The company says the shoes create a more active gait compared to the passive gait you have with other shoes.  They also look different than regular athletic shoes because of their thick outsole.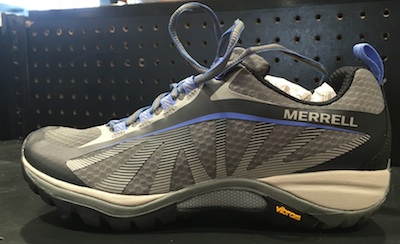 Merrell offers women's shoes for running, hiking, and casual wear.  They have many waterproof and insulated styles and are designed well for outdoor use.  Merrell is a subsidiary of Wolverine World Wide, which makes Wolverine boots and shoes and is headquartered in Battle Creek, Michigan.
***Read my review of the Merrell Siren Sport here.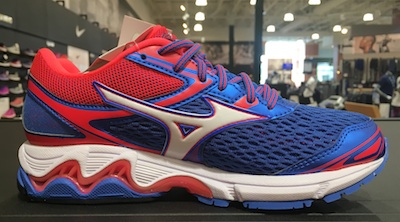 Mizuno makes shoes for running, soccer, softball, and volleyball.  On the website, you have to pick the sport you are interested in before you can narrow it down to men's or women's styles. 
The company was formed in 1906 in Japan when modern sports began to be accepted in the country.  They started by making sporting goods and accessories, and added shoes much later.  American Mizuno was established in Los Angeles in 1969.    
The US Women's National Volleyball Team wears Mizuno shoes. 
New Balance claims to be "the only major company to make or assemble more than 4 million pairs of athletic footwear per year in the USA."
New Balance makes women's shoes for running, training, walking, tennis, golf, fastpitch, lifestyle, hiking & trail, casuals, and even work shoes and sandals.  The running category is broken down into trending shoes, cushioned, speed running, distance running, everyday, trail, spikes & competition. 
Under most of the categories you can search by size, width, color, most popular models, and price.  There is even a "recently reduced" section that includes all the shoes that are currently on sale.
The website also offers NB1 women's custom sneakers, which allow you to choose your own color combination and materials.  The customizable option is available for fashion sneakers, performance, or classic designs.
The NBRX section of the website explains some of the technology the company uses to give customers the best fit, and helps you find a store in your area with trained fit specialists.
Fun Fact for Your Feet:
Since New Balance originally specialized in insoles and arch supports, the company was one of the first to test shoe designs with scientific methods.  Company researchers found that there are generally three running styles – neutral, pronated, and supinated.  During the 1970s, New Balance became the first to offer running shoes designed to fit these different styles.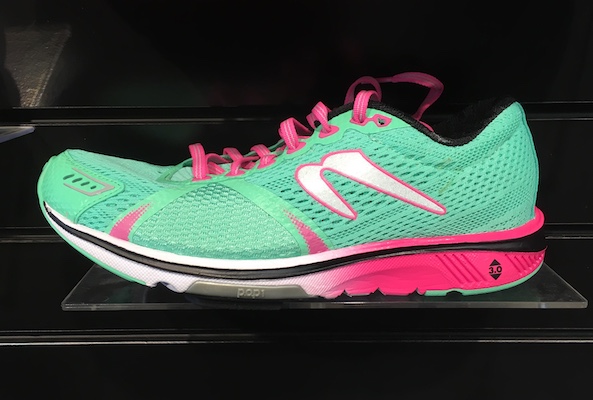 Newton makes shoes exclusively for running, including training, racing, and trail running.  They have neutral or stability styles, and most of the women's shoes come in bright, fun colors. 
The company headquarters is in Boulder, Colorado and concentrates on outdoor recreation.  The website does indicate that you can wear some Newton models for walking as well as running.
Newton running shoes have lower heel to toe drop and are designed to make you run in a more natural position.  They feature cushioning technology called Point of Power with "lugs" that provide a bounce-back with each step.
Since the shoes have a more level platform and some unique technology, Newton says you may have to adjust to these shoes slowly if you are used to traditional running shoes.  You may have some soreness or fatigue in your Achilles tendons or calves if you try to break them in too quickly.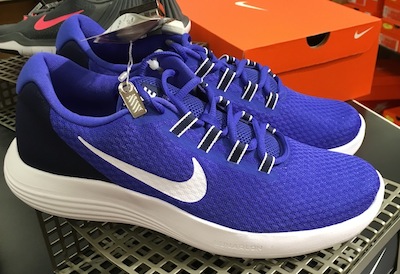 Nike is the Greek goddess of victory.  The company was founded in the US in 1964 and is the leading athletic shoe and apparel supplier.  Who isn't familiar with its marketing slogan, "Just Do It?"
Nike offers women's shoes in the categories of basketball, cheerleading, golf, lacrosse, lifestyle, running, soccer, softball, tennis, track & field, training & gym, volleyball, yoga, and even skateboarding.  On its website, you can search by type of shoe, color, size, collections, and even width – narrow, regular, or wide. 
I have to say the width availability of Nike shoes surprised me because when I shop in stores, it seems like the Nike shoes are all too narrow for my feet.  It may vary from store to store whether or not they carry the different widths, but it is good to know you can find them online.
Nike also offers personalization with text only or full customization.
Fun Facts for Your Feet:
In 1999, Nike was the first athletic shoe brand to offer customizable designs online.  NIKEiD allowed people to customize their shoes so they could buy something unique to their tastes.  Online applications allowed a choice of style, color, materials, and even text on the shoes.  Other brands soon followed, and this customizable option is available in many brands today.
In 2016, Nike launched the first "self-tying" shoe, just like Marty McFly's in the 1989 time-travel movie, 

Back to the Future Part II

.

  Unveiled in March 2017, the shoes tighten with the push of a button after you slip them on.  Press another button, and the shoes loosen so you can take them off.  The laces are powered by a battery that can be recharged, and a charge lasts a few weeks with typical use.  A light lets you know when you need to recharge.  These sound really cool, but availability is limited and the price is more than $700!
Why Are Nike Shoes So Popular?  Read more here.
I absolutely love the name of this shoe!  I could not believe it was real when I heard it.  Here is a description straight from their website:
"NOBULL is a footwear, apparel and accessory brand for people who train hard and don't believe in excuses.  If you think gimmicks in your shoes make you a better athlete, NOBULL is not for you."
The shoes they have for women fall under the categories of trainers and lifters.  The trainers are lightweight, breathable, and flexible, and they are durable enough to move with you during intense workouts indoors or outdoors.  The upper materials are supposedly resistant to abrasions and the elements, and they come with two pairs of laces.
The lifters are handmade with leather that is built to last.  They also come with two pairs of laces – flat and round. 
The company launched in 2015 and represents several elite athletes.  The shoes are for CrossFit training and competitive fitness.  They are simple shoes, but come in a variety of colors and styles to fit your personality.  Trainers are priced from about $100 to $170 and lifters are about $300 due to the time spent on the hand-crafting process.
We all know North Face as a company that makes outdoor wear.  It makes sense, then, that their women's shoes are for hiking, training, trail running, and casual wear.  The company has been around for 50 years and is located in California.  Its motto is "to inspire people to live a life of exploration."
North Face began as a retailer for high-performance climbing and backpacking equipment.  They later added skiwear and other sportswear, and then developed a line of shoes in the late 1990s.
The running shoes are designed for use on trails and include protection from trail debris and durable, sticky traction in all conditions.  Some feature a patented FlashDry fabric that accelerates the removal of moisture from the skin and speed up evaporation if you're running in wet conditions.  Others are made with Gore-Tex for waterproof protection.
These shoes are obviously designed for outdoor running in cooler conditions rather than in the gym or on the track where you would be looking for something breathable and light.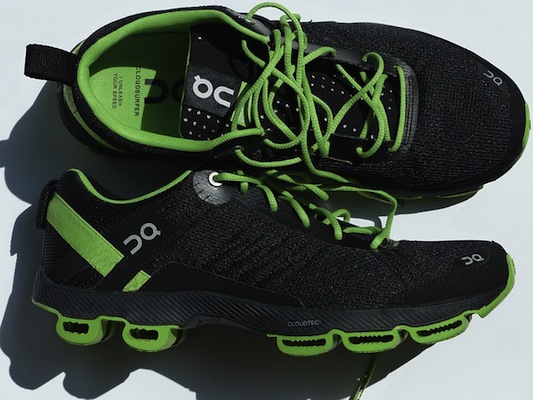 On shoes haven't been around as long as the Nikes or Adidas of the world.  In fact, the company was conceived in 2010.  But it made a strong debut in the running shoe industry, and its prototype won an innovation award.
The company began in Switzerland with the idea of engineering a better running shoe, one that provides a soft landing with a firm push-off.  The first On shoe was the Cloudracer, which was made for competitive running.  Other "Cloud" styles soon followed for a variety of running types.
On styles feature unique technology, like a patented cushioning structure known as CloudTec.  Its open tubes run along the outsole to compress and absorb impact, and then they flatten out to create a strong platform to push off from.  It's a unique look, and it makes sense that the tubes would work that way when you see the design.  Other technology elements add to the shoes' cushioning, durability, and support of your natural foot movement. 
This brand makes shoes exclusively for running, so if you're looking for a shoe for a different sport, this isn't the brand for you.  On offers a variety of running shoes, including performance, cushioning, trail, lightweight, and stability.  Prices range from about $130 - $200. 
Pearl Izumi makes products for cyclists, mountain bikers, and triathletes.  They carry six models of lightweight women's shoes that are designed to clip onto your bicycle pedals to keep your feet locked in place as you pedal. 
There is one style that looks more like a running shoe than the others, and it is designed for wearing at the gym as well as on the bike so you can go from one to the other without changing shoes.
Plae's goal is to erase the artificial line between kids and adults when it comes to play.  The company says that play is a fundamental and universal concept that "cuts across cultures, politics, racial barriers, and genders." 
They want to "harness the power of play for everyone—starting with shredding the notion of age limits, of growing up, of losing that spirit of joy."  
Their shoes are hand-crafted, and they are made in an eco-friendly fair labor factory that is solar-powered and uses renewable resources, water-based glue, and recycled materials.
Adult shoes come in four styles – Mulberry, Butler, Larkin, and Prospect.
The Mulberry is made of weathered leather and features the patented STAELACE™ closure system that secures the shoe in one single motion and a radial tongue to eliminate slipping.
The Butler is made with nubuck leather and technical mesh and also has the loop closure system.
The Larkin is a velvety leather and suede shoe with a Velcro closure.
The Prospect is made with breathable mesh and suede, and it features a built-in elastic lace-catcher that tucks away the laces to prevent tripping and snagging.  It has a shock absorption footbed and removable insoles for comfort.
Prices range from about $80 to $160.
Although these shoes are made for "play," they don't appear to be made for serious athletic use.  They sound very comfortable and stylish, but don't look like they have enough support for running or other specific sports.  They most likely fall into the "athleisure" category.
PONY began selling athletic footwear in New York in 1972.  Although you may be able to purchase their shoes on other websites, the PONY website has just a few shoe styles.  It does not differentiate between men's and women's shoes, with sizes for both listed with each style.
The shoes offered look to be for casual wear or court sports, but not for running.

Fun Fact for Your Feet:
In 1986, Spud Webb, one of the shortest players in the NBA at 5'6", won the NBA All Star slam dunk title wearing PONY shoes.
Prince makes tennis shoes for women, but you won't find much about them on the company website.  They only offer a few styles, and there isn't any detail about their features. 
However, the shoes are widely available on many websites that sell tennis shoes, clothes, and accessories such as Amazon, eBay, Midwest Sports, Tennis Express, and Tennis Warehouse.  These sites indicate the Prince shoes offer ventilation, durability, and support.  Some styles come with two different colored sets of laces so you can customize your look, and most have a 6-month durability guarantee.
The founder of the company, Bob McClure, invented the tennis ball machine in 1970 in his garage in Princeton, New Jersey.  Now the company makes rackets, shoes, apparel, and equipment for tennis, squash, and badminton.  They are also famous for creating the first oversized tennis racket.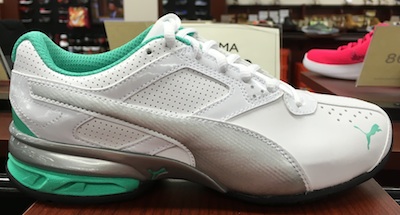 PUMA shoes come in golf, lifestyle, running, soccer, and training varieties.  They even offer ballet flats and wedge sneakers in their lifestyle category, as well as motorsport styles with a rounded driver's heel.
Fun Facts for Your Feet:
T

he suede PUMA will always be linked to the civil rights and Black Power movements of the 1960s.  African-American athletes Tommie Smith and John Carlos were wearing the shoes when they won gold and bronze medals at the 1968 Olympics in Mexico, and they saluted Black Power during the playing of the national anthem.
In 2013, PUMA created the InCycle sneaker, a completely biodegradable or recyclable shoe.  The upper part is made of organic cotton and linen, and the sole is comprised of biodegradable plastic, lessening the company's environmental impact.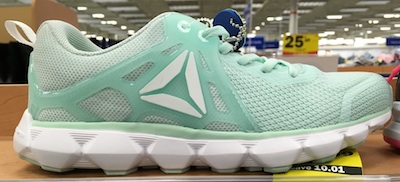 Did you know that Reebok is a division of the Adidas company?  It's true – in 2006, Adidas acquired Reebok and its Rockport brand.  The Reebok name dates back to 1958 when British brothers Joe and Jeff Foster renamed their grandfather's company, J.W. Foster and sons, which was founded way back in 1895.  Reebok is now the third most popular athletic shoe brand, after Nike and Adidas.
Reebok has shoes in a variety of categories for women, including cross fit, training, running, studio, dance, walking, classics, work boots and shoes, and a design your own option.  You can narrow down your options by fit and what you use the shoes for, such as light running or competition. 
They also have shoes that incorporate different technology, like something called HEXALITE that imitates the strength and light weight of a honeycomb, and even shoes built with Kevlar, apparently to make them more lightweight and durable.
And yes, Reebok still makes THE PUMP, which was introduced in 1989.  For those unfamiliar with it, THE PUMP features inflation chambers inside the shoe that you can "pump up" to control the air pressure for a custom and more comfortable fit.  Over the years, PUMPS have been available for basketball, tennis, cross-training, golf, walking, aerobics, and running shoes.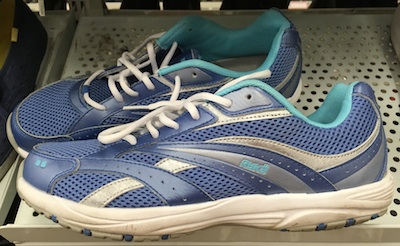 Ryka is a company that concentrates exclusively on women's athletic shoes.  It is managed by women and their shoes are designed by women, so they understand that women need more than "just a downsized version of a men's athletic shoe."  Ryka offers running, walking, training, and casual shoes.  They also have shoes for water fitness activities that feature a drainage system. 
Ryka has been around for over 25 years and has studied women's foot shape, muscle movement, and skeletal structure.  They've designed their footwear with narrower heels, more room in the forefoot, higher insteps, and secure footbeds for better fit, comfort, and control.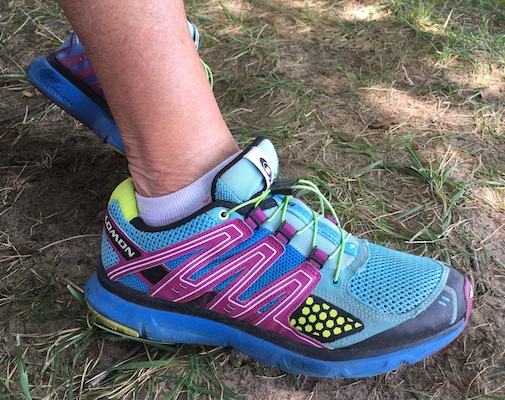 Saloman makes running, hiking, mountaineering, and winter shoes for women.  With these categories, the shoes are definitely geared toward the outdoors enthusiast.  Even the running shoes are designed for trails and roads rather than for sidewalks and gyms.  They are described as both technical and stylish, offering lightness, grip, protection, and durability. 
Given that the company formed in 1947 in the French Alps, the outdoor slant certainly makes sense.  The company founders had a passion for outdoor sports and wanted to challenge others to get the most enjoyment possible from outdoor activities.  For its first several decades, Saloman concentrated on ski boots and bindings.  It wasn't until 1992 that the company branched out into summer sports with the launch of its line of hiking shoes.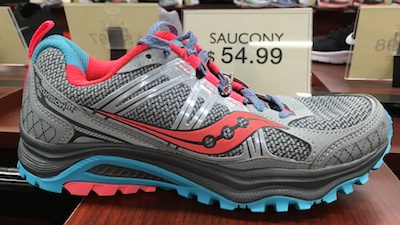 The company opened in Pennsylvania in 1898, and the name is pronounced SOCK-UH-KNEE.  The word Saucony comes from the Lenni Lenape Native American word "saconk," which means "where two rivers run together."  The logo represents a running river with three boulders and it was inspired by the shoe factory's original location on the Saucony Creek.  The company moved to Cambridge, Massachusetts in 1968.
Women's shoes by Saucony include styles for running, walking, racing (think cross country and track & field), and lifestyle.
The website offers both an overview with general information about the technological aspects of each shoe, and a list of "specs" that gives details about pronation, cushion, arch, water resistance, and the type of surface the shoe is best for.  This is pretty helpful for direct comparison between the various models.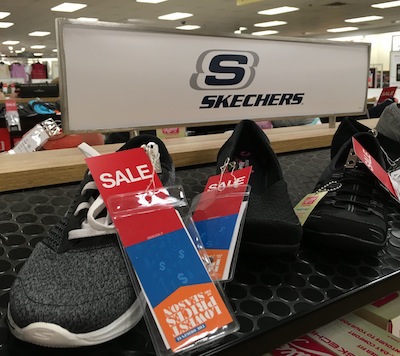 Skechers offers performance and lifestyle footwear for women.  The company was founded in 1992 and its headquarters is in Manhattan Beach, California.  Skechers has become popular by using athletes, actors, and musicians in its marketing campaigns.
The company founder, Robert Greenberg, was also a leader at the shoe company L.A. Gear, which had appealed to a young, urban women's market.
The performance shoes are for running and walking, but Skechers doesn't emphasize the performance aspects of its athletic shoes, focusing on their streetwise style instead.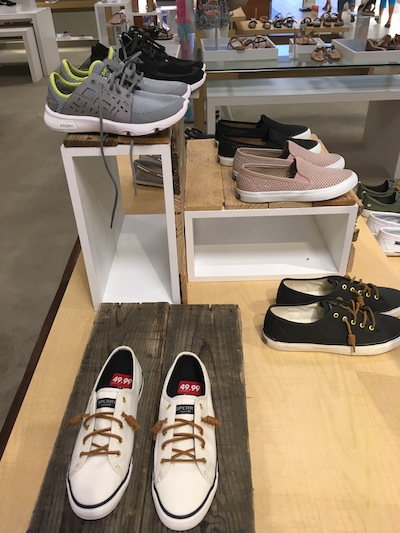 Along with their very popular boat shoe, which it seems every private high school student is wearing these days, Sperry also makes sneakers and casual shoes for women. 
These shoes are not specifically designed for running or any other type of intense athletic activity.  They offer comfort with slip free outsoles and are especially good "from the beach to the boardwalk and beyond."  The only reason I included this brand here as an athletic shoe is because I have seen them for sale at women's athletic shoe stores. 
Spira shoes are made with a patented footwear technology called WaveSpring.  It's described as a "stable and lightweight spring that is placed in the heel and/or forefoot of the shoe.  Each spring is calibrated based upon the size of the shoe and helps protect against fatigue, stress, shock, and impact forces."  The springs return more energy to the wearer, which creates less stress on the joints.
CEO Andy Krafsur originally tried putting springs into a pair of athletic shoes he owned to see if they would help with the impact of running.  He soon discovered that the shoes also made walking, shooting baskets, and other activities more comfortable, and his legs still felt fresh after the activity.  He wanted to share this technology with the world.
Spira has women's shoes for casual wear, walking, and running.  All the styles employ the technology of the "little shock absorbers."  The company claims that unlike the foams and cushioning materials used in other shoe brands that break down after use, the WaveSpring is mechanical and will not lose the new shoe feel over time.
I don't know about you, but I am interested in trying these shoes myself!
The name of this shoe comes from the idea that it goes "one degree beyond your expectations."  They make women's shoes for running and training, and they offer free standard shipping on all orders.  The company was founded in 2003 in China and later went international.
The idea behind this shoe is to combine "the freedom of minimalist ideals with the comfort and protection of traditional running shoes."  The creators came up with a new foam they call QU!KFOAM, designed for cushioning, comfort, and quick, dynamic performance.  It's supposed to continue the high-energy return and comfort throughout the life of the shoe.
The outsoles include a lightweight plate for stability and flex grooves that mimic natural foot motion and offer better traction.  The shoes feature a pressure free tongue for comfort and to avoid irritation.  The mid-foot has internal webbing called Fitz-Rite to hold your foot in place. 
The styles offer neutral or moderate stability and come in regular and wide sizes.  Prices range from about $70 to $150. 
TOMS carries women's sneakers in several styles, but they are not really designed for the serious athlete.  The shoes are for fashion, comfort, and casual wear. 
The company is famous for its One for One program – for every product you purchase, they will help a person in need.  TOMS has donated over 75 million pairs of new shoes to children in need through this program.
Topo Athletic is another shoe brand that I had never heard of until I started researching all the brands for this website.  They make women's athletic shoes for the road, the trail, and the gym.  The company is named for its founder, Tony Post.  He learned about making shoes during his 15 years working at Rockport and 11 years as CEO of Vibram USA, creator of the FiveFingers natural athletic shoe.  He formed his own company in 2013 to offer running shoes for natural running that include some of the features of a traditional running shoe.
The company is innovative and strives to work with the latest technological advances to help athletes continue to improve.  All their shoes incorporate three important elements – "a roomy toe box, a neutral low-drop platform, and a seamless light weight construction."  These design elements encourage a "natural" running style.  The low drop means the shoes have less cushioning than many other brands, so be sure this is what you are looking for if you choose them.
This "comfort walking shoe" was released in July 2018 and features a built-in Q-chip pedometer in every shoe.  Sync it with a smart phone app, and you can track your steps, create fitness goals, connect with friends, and compete for a place on the leader board as you strive to reach fitness milestones.  The chip does not have to be charged.
The TRAQ is not the first "smart footwear" on the market.  Under Armour has the HOVR running shoe with tracking technology, but Allegria's comfortable and supportive footbed is ideal for walking.
The TRAQ lineup includes five styles, from a slip-on casual to a sporty, more athletic style.  They come in a variety of colors and patterns, and they are available at the Allegria Shoe Shop, Dillard's, and Zappos.com. 
TRAQ shoes are made by a company called Alegria by PG Lite located in Ontario, California.  The company designs comfort footwear with a patented footbed designed with arch and heel support to help relieve stress on your legs, hips, and back if you're on your feet a lot.
The removable footbed in all their shoes is made of "specially formulated soft polyurethane, cork, and memory foam and is ergonomically designed to fit the natural contours of the feet."
Tretorn was established in Sweden in 1891.  It was formed as a rubber company and started by making galoshes, hoses, and bike pedals.  The company gets its name from the three exhaust towers at the original factory in Helsingborg.
The only athletic shoe the company makes is the Tretorn Nylite, which first came out in 1967.  It became known as the first "luxurious" sports shoe.  It's a shoe designed for tennis and was very popular on the courts in the 1970s.  It is available in four colors for women in addition to the original white with the dark blue wing.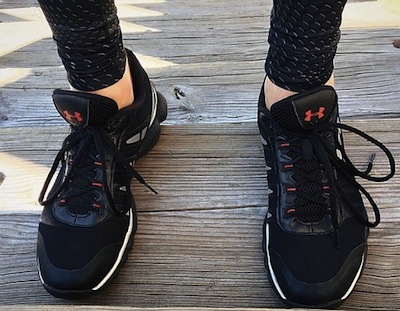 Under Armour was the brainchild of a 23-year-old former football player in 1996.  Kevin Plank played for the University of Maryland and grew tired of changing his sweaty cotton T-shirts so often during practices.  He experimented with different synthetic fabrics to create a shirt that would wick away moisture and help keep athletes cool and dry.
Ten years later, Under Armour started making football cleats.  That led to baseball, soccer, and lacrosse cleats, and in 2008, it expanded into all types of athletic footwear. 
For women, UA makes shoes for running, training, hiking, basketball, and lifestyle, as well as cleats for soccer, softball, and lacrosse.  The brand also offers soft-sided studio shoes for yoga, pilates, Zumba, and dancing/fitness classes.  There is even a shoe called the UA Drainster, which is described as a "fishing shoe."  Catchy!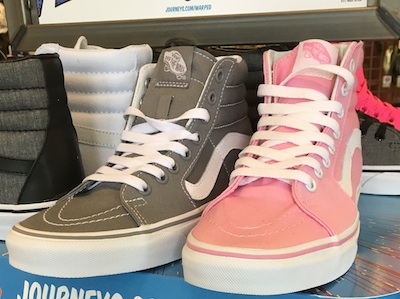 Vans was founded in 1966 in Anaheim, California by brothers Paul and Jim Van Doren and two other partners as the Van Doren Rubber Company.  It manufactured and sold shoes directly to the public from the same site. 
Vans are known as shoes for skateboarders, who first began wearing them in the 1970s.  Skaters liked their rugged style and sticky soles. 
The famous Vans Sidestripe made its debut in 1977 and was originally called the "jazz stripe."  It has now become the signature of the Vans brand and is nearly as recognizable as the Nike swoosh and the three stripes of Adidas.
Vans are available in women's styles for skateboarding, surfing, and snowboarding.
Here is one of the most iconic Vans designs, the black and white checkerboard.
Fun Fact for Your Feet:
In 1982, Vans shoes became even more famous when they were worn by Sean Penn's character, Jeff Spicoli, in the movie Fast Times at Ridgemont High. 
Veja, a French brand of footwear, became a lot more famous in October 2018 when Meghan Markle was spotted wearing them.  Markle, also known as the Duchess of Sussex, wore the low-top trainers on a royal tour of Australia with her husband, Prince Harry.
I haven't had the chance to interview the Duchess myself (!), but sources indicate she likes to wear environmentally friendly brands, and these fit the bill.  Veja uses materials like organic cotton, recycled polyester, vegan suede, recycled plastic bottles, and wild rubber from the Amazonian forest.
Here's a link to a pair of Veja sneakers similar to the ones Markle wore.
The funny thing about this "Markle Effect" (meaning she can wear some item of clothing and make it an instant sellout) is that the founders of Veja didn't even know who she was until they heard she was wearing their sneakers!  They have a pretty good excuse though – they don't do any advertising of their company, and they never pay celebrities to wear their products.
According to Footwear News, Veja founders Sebastien Kopp and Francois-Ghislain Morillion explained, "Seventy percent of the cost of a normal big sneaker brand is related to advertising. So, eliminating ads, marketing costs, doing away with brand ambassadors and billboards means we can invest in our employees, our materials, our factories and, therefore, our planet.  It means we can focus on the production chain and how to change it."
The brand was founded in 2004 and is headquartered in Paris.  They supply their shoes to nearly 2,000 retailers in 45 countries, as well as selling on their website.
Although the shoes look comfortable and some appear to have a decent amount of cushioning, this is another brand that seems to be more lifestyle or "athleisure" than performance-oriented.
Vessi is headquartered in Vancouver, BC, Canada.  They are a very new company, and they use Kickstarter campaigns to launch their products.
Vessi advertises that its Cityscape is a 100% waterproof knit sneaker.  It includes a patented membrane called Flash Knit that is made up of very small pores.  The pores are small enough to block water and moisture from outside, but large enough to let your own body moisture escape from the inside so your feet can breathe and not get too hot.  

The shoes are lightweight and "vegan-friendly."  They also claim to be eco-friendly, using less water, electricity, and manpower in the production process and creating less waste.
You can check out this video review featuring some testers trying them out.  They say they would wear these shoes instead of rain boots on a rainy day.
The Cityscape is Vessi's first sneaker.  The style comes in four colors – gray, black, white, and green.  They all have laces except the green ones, although the laces don't really need to be on the shoes.  It's a knit, sock-style shoe, so the ones that have laces are basically just for show, although I suppose they could allow for a slightly tighter fit.  The price is $129.
Vessi has two more styles coming out in May 2019 – the Everyday with laces (in black, blue, or rose) and the Skyline slip-on (in black or gray).  These styles will also be waterproof and breathable.  These new styles look to be about $150.
Vessi's sneakers appear to be more of a lifestyle or "athleisure" shoe than a performance athletic shoe made for running or other strenuous athletic activities.  The soles are described as slip resistant, but they don't seem to have much grip.  There is also no description of any type of cushioning material in the shoes.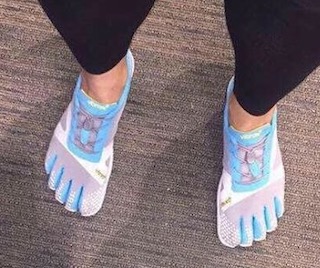 Vibram makes the FiveFingers shoes that essentially look like gloves for your feet.  They are fairly thin and stretch around your feet, and they have a space for each individual toe.  They come in a variety of colors, some with laces and some that slip on.  There are styles for running, training & fitness, outdoor, water sports, and casual.
Vibram is named for Vitale Bramani, who in 1937 created a rubber sole for mountain climbers to help with traction.  This led to different types of hiking boots and casual shoes.  The FiveFingers "foot glove" was developed in 2004 to aid wearers who wanted to walk or run barefoot, but needed protection from the elements.
Vibram actually makes outsoles for several other athletic shoe brands, including Merrell, New Balance, Saucony, North Face, and Under Armour.
FiveFingers shoes are an example of minimalist shoe, which is defined as "Footwear providing minimal interference with the natural movement of the foot due to its high flexibility, low heel to toe drop, weight and stack height, and the absence of motion control and stability devices."  (Journal of Foot and Ankle Research - https://jfootankleres.biomedcentral.com/articles/10.1186/s13047-015-0094-5)
I first heard about this athletic shoe when people were talking about Oprah Winfrey wearing it on the cover of her magazine.  It's a walking shoe designed by podiatrists for comfort with every step.
The shoes are described as firm yet flexible, and some styles have a removable orthotic insert.  Others have memory foam and a relaxed toe box.  They also feature lightweight, breathable cushioning and technology that promotes better forefoot mobility and gait efficiency.
Vionic was established in 1979 by a podiatrist who was looking for a lower cost solution for foot-related ailments such as plantar fasciitis and over pronation.  He created an orthotic device that people could buy without a doctor's prescription, leading to design innovations in the footwear industry.
Wilson Sporting Goods has been around for over 100 years, beginning in 1913 in Chicago.  It was originally established to find unique ways of using byproducts of a meat-packing firm that was close by, and it began by making tennis racket strings, violin strings, and surgical sutures.
Although Wilson now manufactures sporting goods for a variety of sports, the shoes they offer for women are just for tennis.  There are just four styles to choose from on the Wilson website, compared to seven for men.  When I checked, the sizes were very limited and one of them was totally out of stock.
Although a quick search of other online tennis shoe providers resulted in the same models for women that are on the Wilson website, I found more colors and sizes.
The descriptions indicate that the shoes provide support, responsiveness, lateral stability and control, low to the court feel, and improved traction and grip. 
Fun Fact for Your Feet:
The Wilson brand famously appeared in the 2000 movie Cast Away with Tom Hanks.  His character finds a Wilson volleyball in the wreckage from his plane crash, and since he is stranded alone on the island, he paints a face on the ball and it becomes his friend and confidante.  Remember Wilson?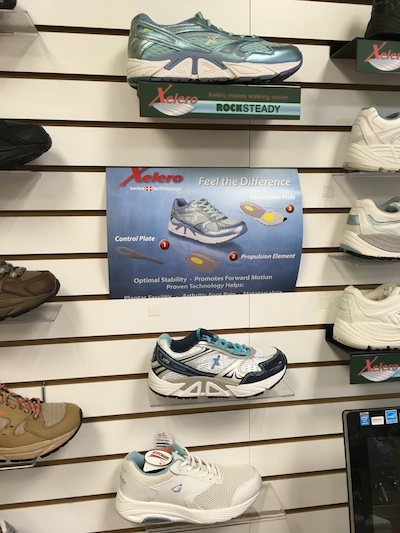 Xelero makes shoes for walking, running, and casual wear.  They are described as "rockers" because of the way your feet move in them when you stride.  The shoe design creates a forward heel to toe motion while you walk or run, absorbing the impact.
This video explains the technology of the shoe and how it benefits your feet.  It provides control, guidance, and shock absorption while working with your natural gait.
I found these shoes at Foot Solutions, which is a retailer that provides shoes for people who are experiencing foot problems.  This is probably not a shoe that you would choose if you have healthy feet or are just looking for a performance athletic shoe.
Yonex is a company that has been around since the 1940s and is known for its tennis, badminton, and golf equipment and apparel.  Women's shoes are available for these three sports.  If you visit the website, you need to choose the sport you are interested in, and then choose footwear under that sport.
All the shoes feature the Yonex POWER CUSHION, which "absorbs shock and then reverses the impact energy for smooth transfer into the next movement."  The company claims to have tested the cushion by dropping an egg from 7m above a sheet of the material.  The egg apparently bounced back 4m without breaking.
York Athletics offers low and mid cross trainers for boxing fitness and high intensity gym training.  The shoes are lightweight and responsive in knit or mesh, and you can get free shipping and exchanges on their website.  The styles are mostly black, white, and gray, but there is one that comes in red.
Shoe features include patented lining to keep feet cool and dry, moisture wicking sock liners, and a comfort tongue to protect against laces biting into your foot.  All the styles have heel pull tabs for quick pull-on, and some are reflective for increased visibility.
York is a small, family-owned sportswear company that traces its roots back to the Indian Head Shoe Manufacturing Company founded in New Hampshire in 1946.  In 1963, the Yorks' grandfather purchased the factory and began making performance footwear for athletes.  In 2016, the York brothers teamed with Mark McGarry to launch this direct-to-consumer training footwear.
The Zoot Sports company began in Kona, Hawaii, which is where the Ironman Triathlon World Championships take place.  They specialize in performance apparel and footwear for endurance sports.  The clothes and shoes are designed for multi-sport athletes like those who compete in triathlons so they can quickly go from one sport to another. 
The shoes are lightweight, and some models feature a closure system that can be adjusted more quickly than standard laces.  They also have an internal lining that is supposed to give the shoes a more custom fit feeling.
Do You Know of Any Other Brands?

Are there any other women's athletic shoe brands that are not included above?  If you have any suggestions about brands that I should add to this web page, please send me a comment through the form located at the bottom of this page.
Do you like (or dislike) a particular athletic shoe brand?  You are invited to share your shoe review or experience on my Shoe Reviews page!