Shoe Review - Women's Merrell Siren Sport Q2 Waterproof
This is my review of the Merrell Siren Sport shoes that I purchased at a local specialty athletic shoe store.  You can read my review of the store, and two other types of shoe stores where I shopped for women's athletic shoes, under Shoe Buying Tips.
Note: As an Amazon Associate, I earn from qualifying purchases.
I chose these shoes because I walk outside when the weather is cold and my regular athletic shoes are very breathable and don't keep my feet warm enough.  These are made with a waterproof material that protects my feet from cold and damp weather.  It's designed to seal out water while still letting moisture escape.  So my feet stay warm and dry, but they don't feel like they're overheated after I wear the shoes for awhile.
The Merrell Siren Sport has a bellows tongue, which means the tongue is attached to the shoe uppers along each side rather than only at the bottom of the tongue.  This helps to keep my feet warmer and keeps water and debris from entering the shoes through that route.
Great Shoes for Winter Walking!
I have worn these Merrell shoes for serious walking workouts and just for running errands, and I find them to be quite comfortable.  I had them on recently when I walked over a mile from a parking lot to an entertainment venue in the cold rain.  We were walking quickly to make it to the event on time, and when we got there my feet felt great and were warm and dry.  I certainly could have walked much farther and been just as comfortable.
These are not designed to be running shoes, and the store employee even said she would not recommend running in them.  But they provide great cushioning and are very comfortable for walking at high speed or just casually.  They have heel-centering technology that's supposed to keep your foot stable and aligned, and I can attest that this feature makes a difference.  The shoes don't slide back and forth on my feet, and the cushioning is right where it's supposed to be.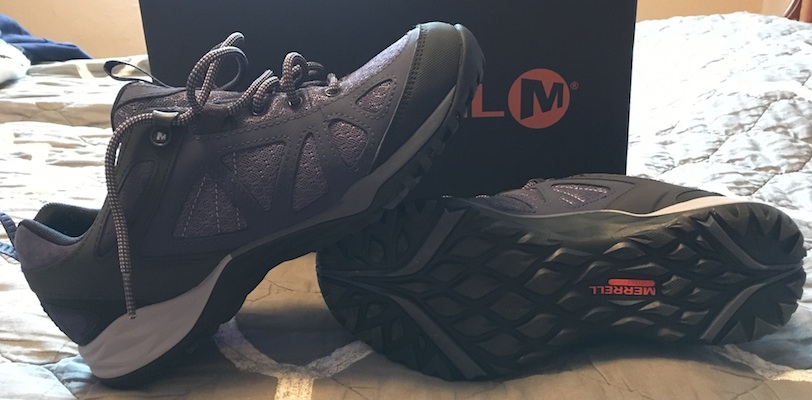 The bottom of the Siren Sport looks similar to a hiking boot since it is designed to wear outdoors and in inclement weather.  This helps in slip resistance, and the shoes feel sturdier than regular running or walking shoes.  But they are not nearly as heavy as hiking boots. 
I like the crown blue color because it makes them look more like a sneaker than a hiking boot, and I can wear them with athletic clothes or jeans.  They're also available in black, olive, and two other shades of blue.
This is the first pair of Merrell shoes I have ever purchased.  But I am very happy with them so I'm sure it won't be the last.
If you're interested in purchasing this shoe, it's available on Amazon in several colors here:  
Merrell Women's Siren Sport Q2 Waterproof Hiking Shoe, Dusty Olive, 8.5 M US
If you're interested in learning more about the Merrell Siren Sport, visit the manufacturer's website here.
You are invited to share your own shoe reviews, positive or negative, on my Shoe Reviews page!  The more we share, the more we can help each other make the best choices.