How Do You Choose the Best Women's Athletic Shoes For Your Needs?
My daughter and I have had difficulty finding the right athletic shoes.  My husband can pretty much pick out any athletic shoe that is a size 11, and it will work for him.  But women's athletic shoes don't seem to work that way.
A size might fit in one brand but not in another.  Some shoes are too wide and others too narrow.  Some have more cushioning than others, but is that the most important feature?
With so many choices available, it isn't easy to find the correct size, the proper width, and which shoe will work best for how we plan to use them – running, walking, tennis, casual wear, etc.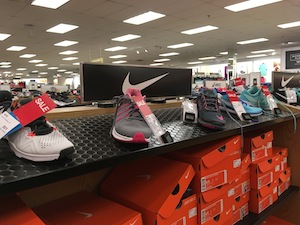 Buying Women's Athletic Shoes
We usually go shoe shopping at stores so we can try the shoes on.  But the employees we've encountered rarely have a detailed understanding of all the shoes they carry. 
If we're lucky enough to even find a salesperson that will spend some time with us, he or she may measure our feet and suggest a size.  But it's usually up to us to pick out a shoe we like and try it on.  Without knowing much about the brands or features, this can be a frustrating process.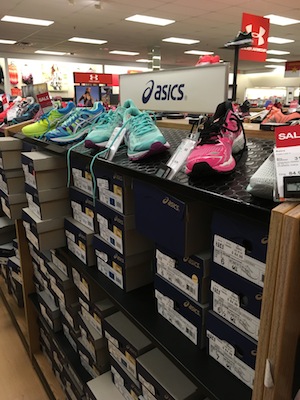 Shopping online can help you find a greater variety of shoes, and websites often include descriptions of the shoe features.  But it's hard to justify the amount of money you might spend when you haven't been able to try the shoes on.  The last thing I want to do is order a pair, have them delivered to my house, and then have to return them because they don't fit properly.
Being Educated
A lot of websites deal with women's athletic shoes, but none seem to have all the information you need in one place.  Some sites talk only about running shoes.  Others promote one brand over all others.  Most don't distinguish between men's and women's shoes.  It's hard to make sense of it all.

This is why I created AthleticShoeReview.com.  My goal is to offer all the relevant information about women's athletic shoes in one convenient location, helping you choose the right athletic shoes for your feet and your sport. 
Whether you plan to buy your shoes online or in a store, for a specific sport or just for casual comfort, being educated about your choices will certainly make the process easier.
Here are just some of the things you will find at this site:
Here's what you won't find at this site:
We just offer straightforward information to help you make the choice that is best for you!