Shoe Review - Women's Allbirds
Tree Runners
When I heard that Allbirds have been called the world's most comfortable shoes by Time magazine, I was intrigued.  I was looking for something that I could do a lot of casual walking in during the summer without having my feet get too hot.
The Allbirds Tree Runners were released in March 2018.  They are described as "light and breezy," offering "cooling comfort," and "ideal for sun-soaked escapades."  I decided to give them a try.
The shoes retail for $95 with free shipping, and I had to order them online since the only Allbirds stores are in New York City, San Francisco, and Toronto.  I usually wear a size 9½, but the shoes come in whole sizes only, due to the form-fitting materials that comprise them.  This concerned me, but the website has a Fit Finder that will help you choose the right size, depending on the Allbirds style you are interested in purchasing.     
The Fit Finder suggested I order a size 9 Tree Runner.  Again, I was concerned until I read Allbirds' 30-day guarantee.  You can try their shoes for 30 days, and if you are "not walking on cloud nine" they will take the shoes back, no questions asked, even if you've worn them "in the wild."  I decided to take a chance since I could return them if they didn't fit.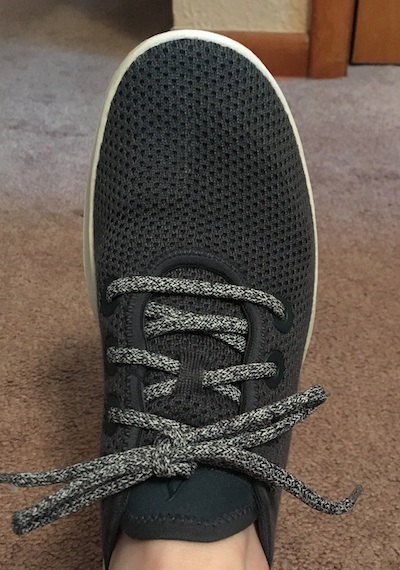 The Allbirds Company is Different
Let me tell you a little bit about the background of Allbirds before I give you my personal impressions of the shoes.  The company's founder is a native of New Zealand, where merino wool is prevalent.  He thought this sustainable material would be good for the footwear industry, and he brought in an engineer/renewables expert to help him design a wool material that is now used in Allbirds shoes.
If you're interested in shoes made of sustainable materials for the sake of the environment, then these may be the ones for you.
The shoes have no "flashy logos or senseless details" and incorporate simple designs using materials found in nature.  Each pair of shoelaces, which you can buy separately on their website, is made from one recycled plastic bottle.  Allbirds makes casual shoes as well as wool runners and tree runners.
The wool runners debuted in March 2016.  They're flexible, supportive, soft, and cozy.  The specially designed wool is supposed to be temperature regulating and moisture wicking without being scratchy like some traditional wools.  
The tree runners are made with a mesh textile derived from "responsibly grown and sustainably harvested eucalyptus pulp."  They are designed to be light and breezy and conform to your feet and your movements.  The company even suggests wearing them without socks to get the most advantage from the cooling effect.
The company also uses recycled materials in packing and shipping, and they donate their lightly used shoes to Soles4Souls.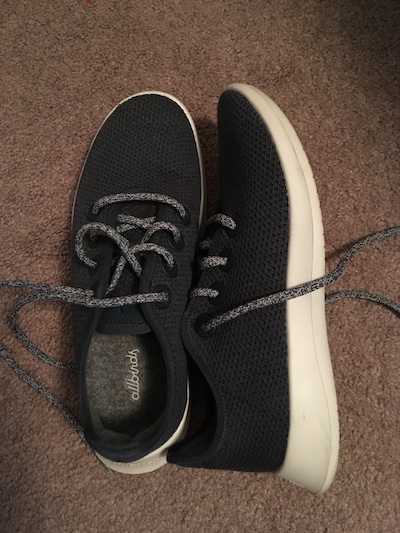 My Review
My shoes arrived within the time frame I was given when I ordered them, and in the recycled packing they advertised.  And sure enough, the Fit Finder was correct in estimating the size 9 would be right for me.  They fit very well, and I have been wearing them without socks as recommended.
It's hard to say whether these shoes are "the world's most comfortable shoe" without trying everything else that's out there.  But I would definitely say they are extremely comfortable.  Although they don't appear to have as much cushioning as some standard running shoes, they are soft and supportive.  My feet feel good wearing them for long periods, and they are light and breathable.
I feel like my feet still sweat a little in these shoes, but they don't smell bad even though I've been wearing them without socks.  I have definitely had shoes that cause more sweating than these.  And these shoes are machine washable, so it won't be difficult to clean them if they do start to smell.
I like the tongue of this shoe because it's attached on the sides, meaning it doesn't move around or slip when the shoes are tied.
My only complaint – and it's a very small one – is that when I wear these shoes for several hours without socks, they leave an imprint of the laces and the material on the top of my feet when I take them off.  It's not uncomfortable or anything, just not a flattering look when I remove the shoes.  But it goes away quickly so I'm willing to live with it.
I've read some other Allbirds shoe reviews, and some people say they have trouble with the shoes slipping off their heels, or they don't like how you can see the outline of their toes on the top of the shoes.  I have not had either of these issues.  It may be that the shoes are too big or too small, or that their foot shape is different and just doesn't look right in these shoes.  But with the Allbirds return policy, you can send the shoes back if you have problems like these.     
I like the simple design of the Allbirds Tree Runners, and I have worn them with both shorts and jeans.  They come in several classic colors, which are always available, and a few limited edition colors that change each season.  I chose the limited edition Kauri Navy with a white sole.  The kauri is a large type of tree in New Zealand.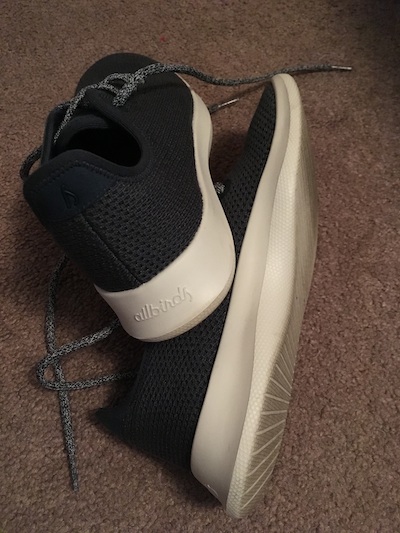 The Allbirds Name
One of my favorite things about the Allbirds brand is where the name came from.  One of the company co-founders is from New Zealand, which is a pretty remote island.  They say that it was so remote, in fact, that when people first got there, there were no mammals present, just birds.  Since life on the island consisted of "all birds," the company name reflects that.

The bottom line?  I like these shoes very much and highly recommend them.
Allbirds Tree Runners are available on Amazon at the link below: 
Allbirds Mens Tree Runners (Womens US 7, Kauri Melon)
Note: As an Amazon Associate, I earn from qualifying purchases.