Why Are Nike Shoes So Popular?
Can I tell you something?  Even though everyone says Just Do It, I don't.  I don't wear Nike shoes.  There, I said it out loud.
But I must be one of very few people that don't buy Nike shoes, judging by their popularity.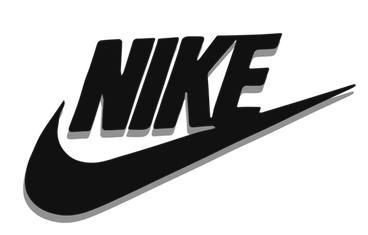 It's not that I have anything against the Swoosh.  In fact, I like the variety of styles and colors they offer, and they have come up with some pretty cool technological advances in athletic shoes that I wouldn't mind trying.
But no matter how many pairs I've tried on, I just can't find a Nike shoe that fits me comfortably.  They seem too narrow for my feet, or they lack enough space in the toe box.  My husband and my daughter have similar problems, but apparently everyone else is wearing them.
Just look at the commercials for Nike, and the number of athletes who wear their products, and the huge displays in athletic shoe stores.  There's no denying Nike's popularity.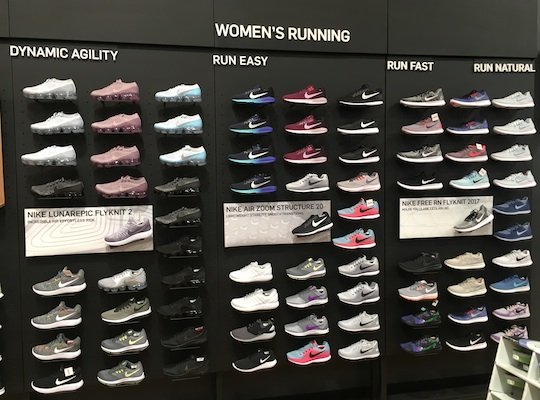 Seriously, when I go into Dick's or Foot Locker or my local specialty athletic shoe store, the amount of display space devoted to Nike is so much larger than the space for any other shoe brands.
So I decided to find out why that is.
Nike History
To begin with, Nike is the top-selling athletic shoe brand in the world, commanding 48% of the athletic footwear market in the U.S. and 31% globally.  So it makes sense that athletic shoe stores would display more of that brand than any other.  Simple supply and demand.
But how did Nike get to be the top-selling shoe, and how has it kept that spot for so long?
First, a little history. 
Nike was originally known as Blue Ribbon Sports and was founded in 1964 by Phil Knight and Bill Bowerman.  Phil was a runner at the University of Oregon, and his track coach was Bill Bowerman.  Bill liked to tinker with his team's running shoes to see if he could improve their performance. 
Bowerman wasn't very successful until he teamed up with Knight, and they began importing shoes from Japan.  In 1971 after some modest success, they created their own lighter training shoe with the famous "waffle" outsole design.
The company became known as Nike, Inc. in 1978 and is named after the Greek goddess of victory.
But there were other athletic shoes around at that time, so how did Nike soar above all the rest?
Smart Moves
Running and jogging for recreation became popular in the 1970s, and Nike grabbed onto this trend and created shoes that worked well for running.
They also started the trend of using athletes to market their shoes.  In 1974, they signed a deal with elite runner Steve Prefontaine for $5,000.  His swaggering attitude and huge success helped brand Nike in the athletic world.
This eventually led to designing signature shoes in the 1980s for Michael Jordan and eventually for other well-known athletes like Tiger Woods, Peyton Manning, and Serena Williams.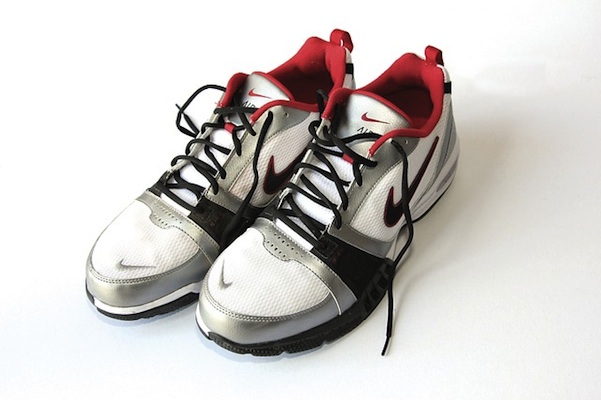 Nike worked its way into the entertainment industry when Jordan began doing Nike commercials with Spike Lee.  Rap and hip-hop songs began mentioning Nike shoes.  Nelly was the first in 1982 with the song "Air Force One."
In 2007, Nike partnered with Kanye West for their first collaboration with a celebrity who was not an athlete.  (These days, Kanye has moved on to partnering with Adidas.)
In addition to partnering with individual athletes and entertainers, Nike sponsors teams and events as part of its extensive marketing initiatives.  According to CNN, no company in the world spends as much money on sports sponsorships as Nike. 
Nike's marketing campaigns often sell the emotional benefits of their products, making you feel like wearing their shoes will help you live healthier and find your own greatness.  Appealing to emotions is one of the first things you learn in marketing class, and Nike's marketing is obviously working.
Future Focused
Over the years, Nike has branched out to create shoes for a great variety of sports, including baseball, basketball, cheerleading, cycling, golf, lacrosse, running, soccer, softball, tennis, track & field, training & gym, volleyball, yoga, and even skateboarding.
So no matter what sports you like, Nike wants you to be able choose their products.
Competition from other brands leads Nike to focus on new innovations and new technology, with the goal of helping athletes perform better.  Nike Air technology dates back to 1979, but some of their more recent developments include knits and other lightweight materials, foam cushioning, and sturdier support.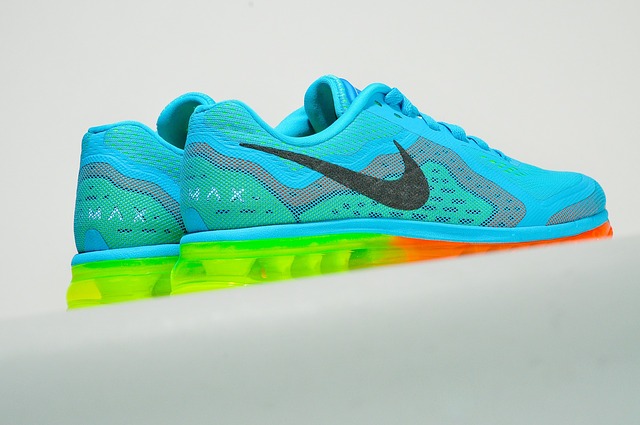 In 1999, Nike was the first athletic shoe brand to offer customizable designs online.  NIKEiD allowed people to customize their shoes so they could buy something unique to their tastes.  Online applications allowed a choice of style, color, materials, and even text on the shoes.  Other shoe brands have followed Nike's lead and now offer a customizable option as well. 
Some of Nike's other technology is more fun than practical.  In 2016, Nike launched the first "self-tying" shoe, just like Marty McFly's in the 1989 time-travel movie, Back to the Future Part II.  The shoes tighten with the push of a button after you slip them on.  Press another button, and the shoes loosen so you can take them off.  The laces are powered by a battery that can be recharged, and a charge lasts a few weeks with typical use.  Availability is limited. 
More Reasons for Nike's Popularity
Not only has Nike been a trendsetter, they also seem to find a way to make the best use of existing trends.
Shoppers today are focused on health and wellness, and more people are buying athletic shoes so they can exercise.  They realize exercise is as important as a healthy diet.  Nike has ridden this trend by making its products widely available and promoting these ideas in their marketing.
They also realize that people are wearing athletic shoes for comfort and casual wear, and as "streetwear" and not just for sports.  So they design shoes to fill these needs.
They target women in their marketing, knowing the buying power of women and their increasing interest in sports and fitness.
They have jumped on new ways of advertising and selling products more quickly than their competitors.  For example, Nike created its website and offered e-commerce before other athletic shoe brands, and they had a strong social media presence before their competitors.
The company has put a lot of effort into sustainability, which is important to its target market.  For instance, Nike's Reuse-A-Shoe program collects worn out athletic shoes to be recycled so they don't end up in landfills.  The recycled material is turned into a product called Nike Grind that is then used to create tennis and basketball courts, tracks, fields, playgrounds, and new equipment, apparel, and footwear.  More than 1.5 million pairs of shoes are collected and recycled through this program each year. 
In marketing, there is a concept called "competitive advantage."  Essentially, it means that a product has something that makes it stand out from its competitors, and it uses that competitive advantage to gain a larger market share.
For Nike, the competitive advantage appears to be lower costs.  It makes its products for less money by outsourcing its manufacturing, which leads to higher profit margins.  The company can then put the money they save into additional aggressive marketing.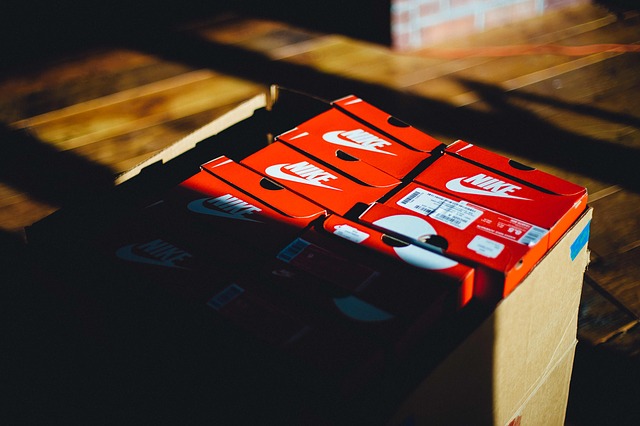 Over the years, that outsourcing has led to claims of slave wages, forced overtime, and abusive conditions in its overseas factories.  But rather than denying the issues, Nike acknowledged the problems and vowed to do better. 
The company worked to improve conditions by raising the minimum age of its workers, increasing its independent monitoring, adopting clean air standards in its factories, and establishing a code of conduct.
Nike has also proven it's not afraid of controversy, especially if it increases their bottom line.  After Colin Kaepernick became the face of their ad campaign for the Just Do It 30th anniversary, some people responded by burning their Nike shoes and vowing never to buy the product again.  But others supported the campaign, and sales reportedly increased by 31%. 
Not a bad move after all – almost like they planned it that way.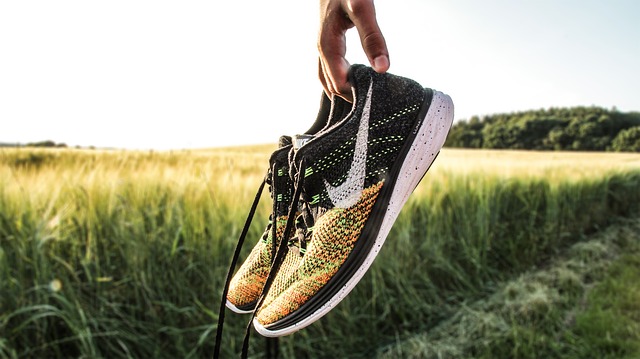 And planning seems to be what Nike is good at.  Always planning ahead, anticipating trends, focusing on the future needs of customers.  If they keep it up, there's no reason why Nike's popularity will change.

So even if I can't wear Nike shoes myself, I have to respect the brand for everything it's done for the athletic shoe industry.  And I have to respect all the people who do Just Do It.