Shoe Review - Women's Adidas Adizero Adios 3
This is my review of the women's Adidas Adizero Adios 3 that I purchased online.  You can read other shoe reviews here, and read about my experiences shopping for women's athletic shoes at different types of stores here.
I was looking for a new pair of running shoes, although I am not a runner.  I like them for walking, biking, and other workouts that I do.  I have owned several pairs of Adidas running shoes and they seem to fit me well and they've always been comfortable. 
My favorite color is red, and I like the combination of white stripes on red.  It seems like a simple design, but I couldn't find any Adidas running shoes with this color combination.  The stores I visited didn't have any, and all the styles online that said they were red were really more of an orange-y shade, not true red.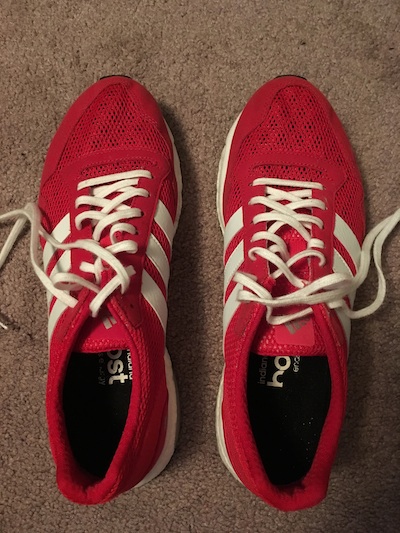 Is Customizing Your Shoes a Good Option?
I finally decided to look into the Adidas customizable shoe option, called miadidas.  This option lets you customize various styles of running, tennis, basketball, and casual sneakers to create your own look.  I particularly liked the Adizero Adios 3 because I have worn previous Adizero models and have been happy with them.  
Keep in mind that "customizable" in this case DOES NOT mean that you can create shoes that are specially made just for you and the exact fit for the size and shape of your feet.  It just means that you pick your size and style, and then you can choose exclusive colors, materials, and other design options to make the shoes the way you want them.
If you are not sure that these shoes will fit you, then you shouldn't order them.  The website warns, "Customized products are made just for you with great care and precision, and therefore cannot be returned."  They ship for free and are delivered within 3 to 5 weeks from the time of your order.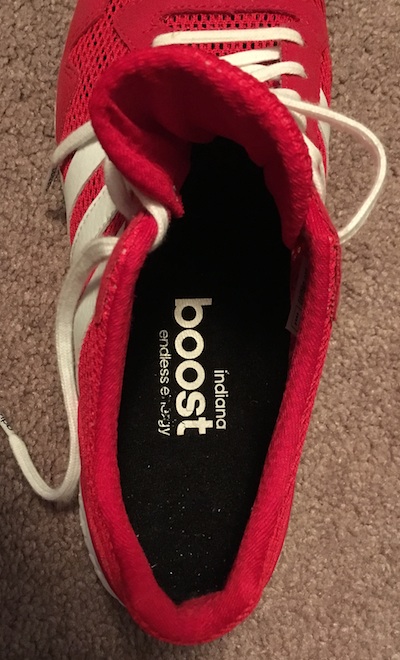 miadidas allows you to personalize your shoes with up to 10 characters of text
With the Adizero Adios 3, you can choose the color you want for the tongue label, stripes, lining, upper, toe cap, heel counter, laces, an extra pair of laces, the midsole, and the outsole.  If I wanted, I could have made each one of these features a different color, which would have been pretty unique.  But as you can see in my pictures, I went with the red and white, along with black for the outsole.
You can choose men's or women's shoes and the size you want.  You can also personalize your shoes with a name or some other text inside the shoe on the sock liner, using up to 10 characters.  I considered putting my name in my shoes, but I ended up with the word "Indiana" because I am a big fan of the Indiana Hoosiers, especially their men's basketball team.  Their school colors are red and white, of course.  (Crimson and cream, officially.)
Adidas Adizero Description
My shoes arrived within the delivery window and they fit perfectly.  The Adidas Adizero Adios 3 is a neutral running shoe that features the "energy-returning boost midsole."  This is Adidas' most responsive cushioning that claims "the more energy you give, the more you get." 
The upper is made of open mesh with overlays for lightweight, breathable support.  These are definitely not going to keep your feet warm.  The mesh is so open, in fact, that I can actually see my white socks through the material.  But they are so lightweight and comfortable that I can barely tell I have them on.  They also have a torsion system that keeps your foot in place, not allowing it to move around inside the shoe.
You can see my white socks through the open mesh of the Adidas Adizero Adios 3.
My Experiences With These Shoes
I've been using the Adidas Adizeros for walking on my treadmill, and they feel very light, yet supportive and cushioning.  I also wore them for our family trip to Walt Disney World, and I walked close to 40 miles in them over a 6-day period.  They held up extremely well, my feet felt great in them, and they still look brand new.
The weather was very hot during our vacation, but the Adizeros kept my feet cool and comfortable.  When we got caught in a downpour of rain, my shoes got soaked walking through the deep puddles.  But because of their lightweight mesh, they dried very quickly and I could wear them again the next morning.  They also gripped well on the wet surfaces so I was not worried about slipping in the rain.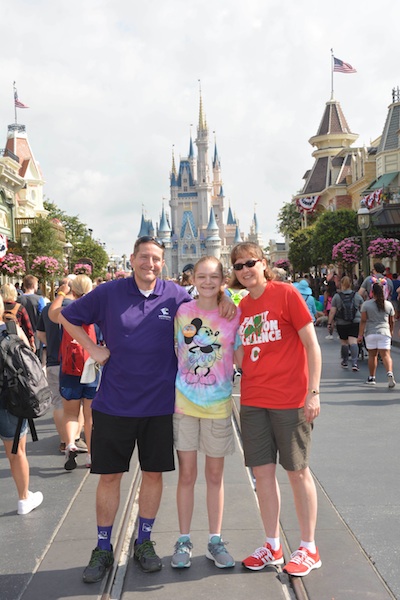 My husband, daughter, and I enjoying our Disney World vacation. You'll notice I'm wearing my Adidas Adizero Adios 3s.
Compared to other Adidas I have, this design appears more narrow and streamlined.  But they are just as comfortable if not more comfortable than the bulkier styles.
I would highly recommend the Adidas Adizero Adios 3 as long as you are looking for running shoes that are cool and light.  I love how light they feel on my feet and how they allow air in to keep my feet cooler.  But if you want something that will keep your feet a little warmer or drier in the rain, then these are not for you.
I was also happy to get the color that I wanted and couldn't find anywhere else, so I love the miadidas customizing option.  But you need to be sure the shoes will fit you before you order them.  If you're not sure, then try on a similar pair at your local store before ordering.
The current price for these shoes is $160.  On the website you can sign up to receive news from Adidas and save 15% on your order.  I had already been receiving emails, so when I got one that allowed me to save 30% on any purchase, I used it to buy these Adidas Adizeros.
The Adidas Adizero Adios 3 is available for purchase on Amazon at the links below:
adidas Women's Adizero Adios 3 Running Shoe, Black/Real Magenta/Bright Blue, 8.5 M US
adidas Women's Adizero Adios w, one/Metallic Silver/Grey Three, 8 M US
Note: As an Amazon Associate, I earn from qualifying purchases.