What It's Like to Shop for Women's Athletic Shoes at a Specialty Athletic Shoe Store
My review of a specialty athletic shoe store is the third in a three-part series.  In an effort to bring you the most comprehensive information about women's athletic shoes to help you choose the right shoe for you, I have visited several types of stores to share my experiences with you.
Obviously, your shoe shopping experiences won't be exactly the same as mine, but I hope they will give you a sense of what you can look for and what you might want to consider when you shop for women's athletic shoes.
In order to represent the types of stores you can find in most areas, I first visited a chain sporting goods store – Dick's Sporting Goods.  You can read that story here.  The second article, which you can read here, is about a chain store focused on women.
My Experience
I visited a local specialty athletic shoe store called Dave's Performance Footgear.  They sell running shoes and apparel, and they also have a small selection of court shoes, walking, cross-training, and trail shoes. 
While you may not have a Dave's in your neighborhood, you probably know of a similar, independently owned, non-chain store like it.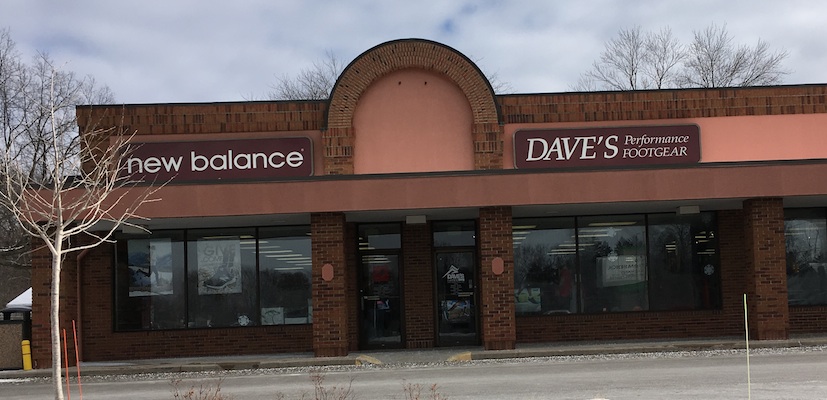 I went into Dave's to look for an athletic shoe to wear when I walk outside in cold weather.  Just wearing my regular athletic shoes is uncomfortable because they are so breathable that they don't keep my feet warm enough.
Within a minute of walking into the store, I was greeted by an employee named Nickie.  I told her what I was interested in and she pointed out the types of shoes I was looking for.  I picked out a few that I wanted to try on.
She asked me if I knew my shoe size or if I'd like to be measured.  For many years I have been wearing a size 9 and ½ and I told her that, but I also asked if she could measure my feet to see if I've been choosing correctly. 
Nickie first measured my right foot and said it showed I would need a size 8 and ½.  However, she said it's always important to measure both feet in case there is a difference.  And wouldn't you know it, I have two different-sized feet.  The left foot is 9 and ½, which would explain why that size is the one I need.  You can't buy a pair of shoes in two different sizes, so you obviously have to go with the larger one.
Neither of the styles I liked were in stock, but I was able to try on different styles of the same brands to determine how they fit.  I liked them both, so the store ordered them both in my size and I planned to go back and compare them when they came in.
The Independent Difference
What I found most impressive was that Nickie immediately knew that I should go with an average width, neutral shoe.  This was not something she measured when she checked my foot size, but it was something she knew because of her training.  She said when I walked into the store, she watched me walk and could tell that I did not have a pronation issue.  And just by looking at my foot, she knew that I would not need a wide shoe.
Nickie has worked at the store for less than three years, but she said she went through a lot of training.  And she has helped so many people in that time that she is able to determine quite a bit just by watching them walk and by looking at their feet. 
I quizzed her about a lot of the shoe facts I've written about on this website – such as foot type, shoe drop, and plantar fasciitis – and she really knew what she was talking about.  She even asked me about my fitness goals and interests and any physical issues I might have, just to be sure the shoe I was interested in would work for me.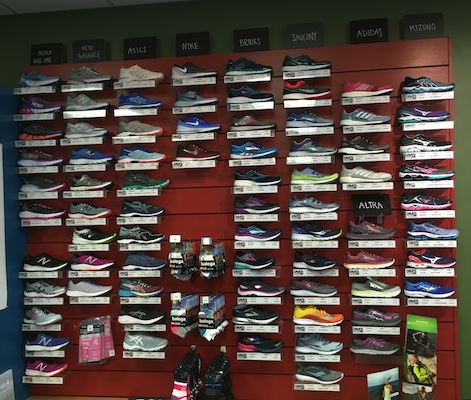 Some of the women's athletic shoes at Dave's Performance Footgear
With the competition of chain stores and their larger marketing capabilities, it's important for independent stores to find ways to stand out.  The high level of training and customer service that I found at Dave's are definite examples of the creative ways that specialty stores work to outshine this competition.
I don't think the prices at this specialty store were any higher than I've seen at any other retailers.  Maybe there's a chance I could find a better sale online, but I'd never get such personal service or the opportunity to find the right fit.
What I Bought
Dave's gives customers a free pair of socks for signing up for its online newsletter, so I picked those up during my visit.  Before I left, Nickie pointed out some of the other services they offer, including proper running form classes, marathon and 5K training, and events they offer in the community. 
The only disappointing part of my trip was the fact that the store didn't have the shoes I wanted in my size.  But they went out of their way to make sure they could get them for me, and I didn't mind going back since my first experience was so positive.
Less than a week later, I received a phone call to let me know the two pairs of shoes they ordered in my size had come in.  I went back to the store to try them on and compare them.  This time I had a different employee help me out.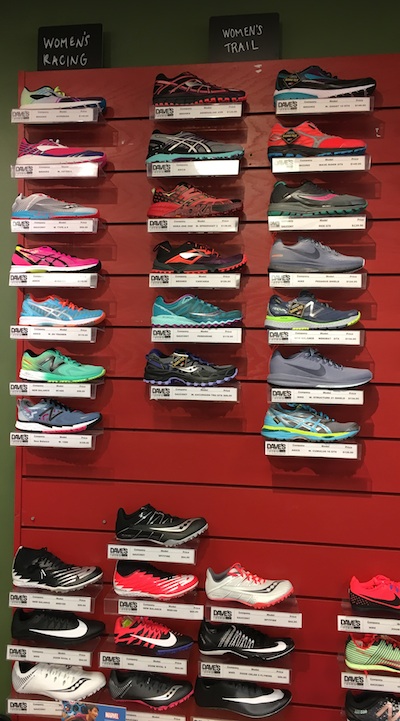 More women's shoes at Dave's
I tried on both shoes, but the New Balance running shoe with GORE-TEX liner for warmth did not feel comfortable.  While the style I tried on previously had fit me, I think that since this one had the liner in it, the shoe felt tighter and was not comfortable when I walked around in it.
However, the Merrell trail shoe, which features a waterproof liner to protect against cold and water, fit and felt much more comfortable.  It also has a more durable design since it's more of an outdoor "hiking" shoe.  The employee assured me that the shoe would be very comfortable for walking in cold, wet weather.
The cost for the shoe was $119, which is comparable to other retailers that I have researched.  I had a coupon through my niece's school fundraiser, so I was able to save $10.
What Do You Think?
I was very happy with the experience I had at this specialty athletic shoe store.  The employees were friendly and very knowledgeable.  They went out of their way to find a shoe that would fit me and suit my needs, even ordering two of them in my size so that I could compare them.  They realized I would only buy one of them – or maybe neither – but they were willing to get both to make sure I could choose the right one.
After reading about my experiences shopping at a chain sporting goods store, a chain store focused on women, and a specialty athletic shoe store, which one would you choose the next time you need new shoes?  Please leave me a comment through the form at the bottom of this page, or write about your own experience on the Shoe Reviews page of this website.
I think if I already know what shoe I want, I would have no problem shopping at the chain sporting goods store.  But if I need more help to make my decision, I would be more likely to visit the women's store or the specialty store.  They both had more knowledgeable employees who spent more time with me, and the specialty store offered a thorough customer service experience. 
If you have an independent athletic shoe retailer that you can visit, I would highly recommend you give it a try when you're in the market for new athletic shoes.  I'm sure you will have a satisfying experience.
Be sure to check out my review of the Merrell shoe that I bought!
Dave's Performance Footgear has been "helping people get faster, go farther, and feel better since 1973."  The family owned shop is the oldest run specialty store in the state of Ohio and has four locations.  
Related: What It's Like to Shop for Women's Athletic Shoes at a Chain Sporting Goods Store

What It's Like to Shop for Women's Athletic Shoes at a Chain Store Focused on Women