What It's Like to Shop for Women's Athletic Shoes at Lady Foot Locker, a Chain Store Focused on Women
My review of Lady Foot Locker is the second part of a three-part series.  In an effort to bring you the most comprehensive information about women's athletic shoes to help you choose the right shoe for you, I am visiting several types of stores and sharing my experiences with you.
Obviously, your shoe shopping experiences won't be exactly the same as mine, but I hope they will give you a sense of what you can look for and what you might want to consider when you shop for women's athletic shoes.
In order to represent the types of stores you can find in most areas, I first visited a chain sporting goods store – Dick's Sporting Goods.  You can read that story here.  The third article, which you can read here, is about an independent specialty athletic shoe shop.
My Observations
The local mall on a weekday morning is not exactly a high-energy place.  So why is it that the women's athletic shoe store I am approaching is blasting music way too loudly?
I may not be the young, hip customer they are catering too, but this is a Tuesday at 11:00 a.m., not a Friday or Saturday night.  Not to mention that I'm not sure you can actually call this music when I can't understand a word of it.
This is Lady Foot Locker, a chain store that concentrates on athletic shoes and apparel for women. 
Most of the main wall of the store, where your eye goes as you walk in, is occupied by the Nike brand.  There's a small Puma section on the opposite wall, along with a small Adidas section.  On the back wall, there are a few Asics, Reebok, and Under Armour styles next to the rest of the Nikes.
My Shopping Experience
Within a minute, a Lady Foot Locker employee greeted me and asked if I'd like to try anything on.  I asked her about the knit shoe styles because I've never tried them on and I'm curious about them.  She pointed out the Nike and the Adidas styles they have, and I opted to try on the Adidas.
The employee explained that the knit styles are designed to feel like socks, and that they give a more custom-fit feel because they hug the shape of your foot.  The store did have the Adidas in my size, and I have to say they felt very comfortable.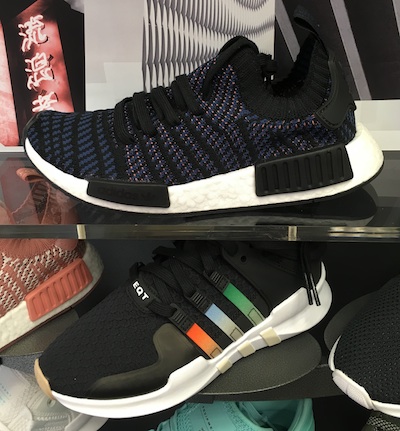 Since it happened to be a frigid day, she explained that you wouldn't want to use the knit shoes outside in cold weather.  The material is very breathable and wouldn't keep your feet as warm or dry as other materials.
I wasn't ready to buy the shoes and told the young lady I wanted to shop around.  However, she still took extra time to answer more of my questions.  She knew a lot about shoe cushioning and showed me the differences between several of the brands and styles on the shelves.
How Lady Foot Locker is Different
I'm not sure if it's a result of her training or her natural ability – probably a combination of both – but the store associate was very knowledgeable and willing to help.  She has an obvious passion for her job.  These things would make me visit the store again. 
I asked her about Lady Foot Locker's focus on women and how it compares to the amount of women's merchandise available at regular Foot Locker stores.  She explained that the women's fitness and athletic shoe market has been growing for years, and the regular stores have relatively small sections devoted to women's merchandise. 
Lady Foot Locker allows for a greater focus specifically on women and our unique needs.  We need more than just smaller sizes of whatever the men have, and the features of women's athletic shoes and apparel should reflect that.
The only negative part of my visit was the way too loud music that was playing.  Maybe they were trying to liven things up, but it was kind of distracting to the shopping experience. This may not happen at all locations, but as a customer that could spend money in their store, I should not feel overwhelmed by the atmosphere.  The employees at Lady Foot Locker should consider the entire range of customers that they are serving.
Lady Foot Locker has 198 locations throughout the United States and Puerto Rico.  It is a division of Foot Locker, Inc., which has headquarters in New York City and operates 3,363 athletic retail stores in 23 countries.  The brand includes Foot Locker, Lady Foot Locker, Kids Foot Locker, Champs Sports, Foot Action, Six:02, Runners Point, Sidestep, and Eastbay.
Related: What It's Like to Shop for Women's Athletic Shoes at a Chain Sporting Goods Store

What It's Like to Shop for Women's Athletic Shoes at a Specialty Athletic Shoe Store