What It's Like to Shop at Athletic Shoe Stores

Since this website's goal is to offer the most comprehensive information about women's athletic shoes to help you choose the right shoe for you, I decided to visit some athletic shoe stores and share my experiences with you.  I hope my stories will help you when you plan to shop for your next pair.
Obviously, your shoe shopping experiences won't be exactly the same as mine, but I hope they will give you a sense of what you can look for and what you might want to consider in your own shopping trip.
I chose three types of athletic shoe retailers:
a chain sporting goods store,

a chain store that concentrates on athletic shoes and apparel for women,

and an independent, specialty athletic shoe shop. 
I thought this would allow for some different experiences that would represent types of stores you could find in most areas.
What It's Like to Shop for Women's Athletic Shoes at a Chain Sporting Goods Store
Maybe it depends on the day.  Or who's working on that day. 
In my case it was a Tuesday, a little after noon at Dick's Sporting Goods in my local mall.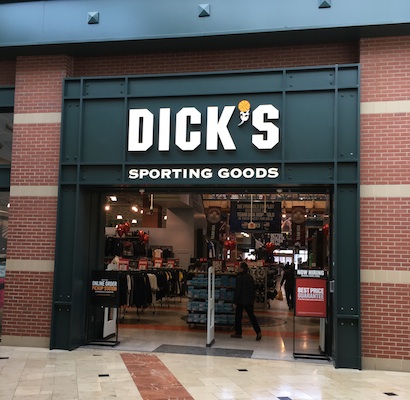 My Observations of This Athletic Shoe Store

The store has a section of tables with discounted athletic shoes in a variety of sizes and styles.  Their regular athletic shoe area is divided into men's, women's, and kids' shoes.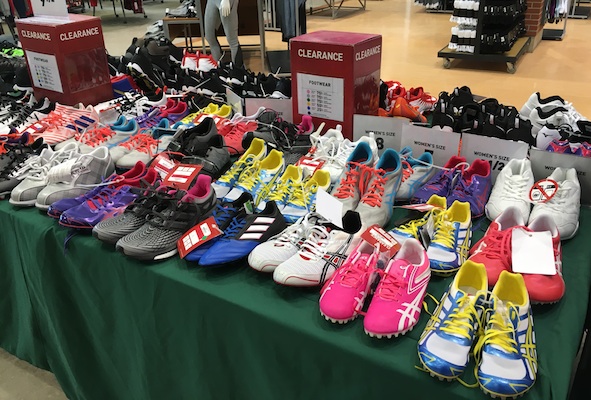 The women's shoes are organized by brand, with Nike taking up the largest amount of space in the store.  The Nikes are further divided into running, training, and court shoes.  The other brands, such as Brooks, Adidas, New Balance, Reebok, Vans, and Asics, are in smaller sections.  There's also a small area labeled "lightweight" with several of these brands represented.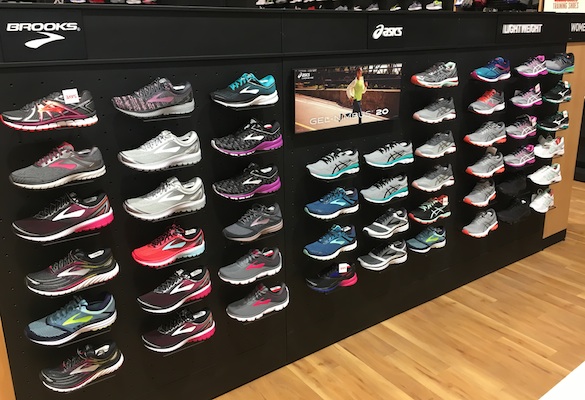 The shoe department was deserted, but after about five minutes of my browsing, a young gentleman came out of the back room.  He asked me if I needed any help and what type of shoes I might be looking for. 
My Experience

I asked him a few questions about the differences between the brands and types of women's running shoes, but he just said they were all running shoes and it depended on what you were comfortable with.  I picked up a particular Nike running shoe and asked about the unique cushioning features on the outsole.  (It was the Nike Air VaporMax Flyknit Explorer.)  He said that he did not like that type personally because they felt stiff rather than soft and springy.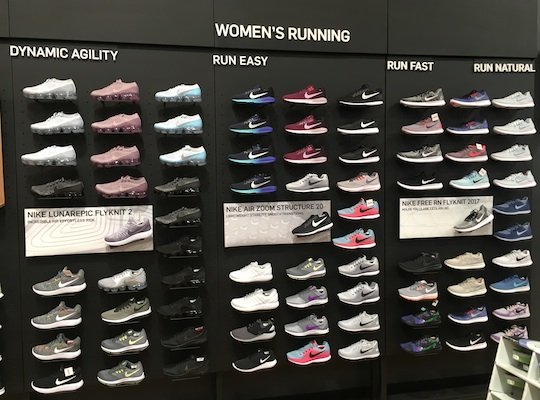 I asked to try on two different shoes, a Saucony and a New Balance.  He asked me my size but did not offer to measure my feet.  After checking the back room, he returned with the New Balance in my size, but said the store did not have the Saucony in my size.  He did not offer to order my size or check any other store locations, nor did he offer any other brand alternatives.
He then left me to try on the shoes myself and did not return until I was well beyond trying them on, walking around in them, looking in the mirror, removing them, and then packing them back into the box myself.  I told him the shoes felt too tight, but again he did not offer any suggestions for another shoe.  I looked around a bit more, but did not try on any other shoes or buy anything. 
My Takeaway
I did notice a very helpful looking display describing a free gait analysis service that Dick's offers.  The set-up includes a treadmill and a computer and says it can help you find the right fit for your run.  Apparently you can record your run using a gait analysis app, have your stride analyzed to determine the angle of pronation, and then identify shoes that match your gait and style.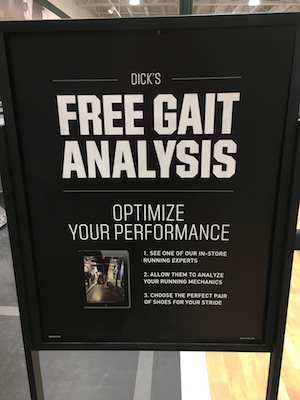 There were no store employees in the area, and I did not really want to run on the treadmill at that time, so I opted not to try this service.  It does sound helpful though.
Overall, I like the amount and variety of athletic shoes that Dick's offers.  I would shop there again, despite the less than stellar service of the store employee I encountered that day.  I'm sure they're not all like that, and maybe he was thinking about going to lunch or something and didn't want to spend too much time with me.
And if I were really in the market for new shoes, I would ask to try on several more brands and styles without giving up so easily.
This was my most recent experience at the store, but I want to point out that I had a better experience a few years ago at the same location.  I went there to look for some new court shoes for playing tennis.  I was interested in a particular pair of Asics, but the store did not have them in my size. 
The woman who was helping me that day brought out a similar shoe that was my size – same brand, but a slightly different style and color.  Once we made sure it fit and felt comfortable, she found the shoe I liked better on the store's website.  She ordered it and had it delivered to the store, and I went back and tried it on when it came in.  I ended up buying that shoe and was very happy with it and with the service provided.
Dick's website is very well organized and comprehensive, with more brands and shoe types available than what they have in my store location.  It also includes a Pro Tips area with some great information about different sports, gear, skills, training guides, and more.
Dick's Sporting Goods is headquartered in Pennsylvania and has been around since 1948.  The chain now has over 675 locations, offering sports equipment, apparel, footwear, and accessories for men, women, and children.
Related: What It's Like to Shop for Women's Athletic Shoes at a Chain Store Focused on Women

What It's Like to Shop for Women's Athletic Shoes at a Specialty Athletic Shoe Store