Shoes Just for You

Have you ever found the perfect fitting athletic shoe, but the style or color choices are a little boring?  Or have you seen a great shoe that comes in a fun color and style, but you can't get it in your size?
If this has happened to you, or if you're just looking for a unique way to put some pizzazz into your athletic shoes, you might want to consider customizing them.
Several athletic shoe brands offer models that you can customize to your liking.  Now this doesn't mean you can start totally from scratch and create any shape and type of shoe you want.  You have to pick from one of the styles they give you, but then you can choose certain parts of the shoe to make your own, such as material, color, laces, logo, and patterns.
How Do I Get Custom Athletic Shoes?

The Vans brand claims to have offered custom athletic shoes since 1966 when people could bring in their own fabric to make the shoes.  Now you can pick from a variety of designs and materials on their website or create your own design. 
Nike offers NikeiD, which launched in 2012.  It allows you to pick your style and colors and customize your logo.  New Balance offers NB1 women's custom athletic shoes, which allow you to choose your own color combination and materials.  The customizable option is available for fashion sneakers, performance, or classic designs.
Within the last few years, other brands have joined the customizing trend, including Adidas, Converse, Reebok, and Under Armour.  Adidas actually lets you upload your own photograph to put on a shoe.  You can check all their websites for more details.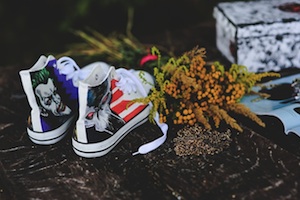 How Much Do They Cost?

As you can imagine, prices for custom athletic shoes are higher than for your basic off-the-shelf styles.  From what I've seen, they generally start at over $100 and go up from there depending on how much you customize.  But I've seen regular athletic shoes that you can't design yourself, especially running shoes, that cost over $100 as well.  Most custom shoes are available online only, but a few brands can be ordered in stores.
If money really is no object for you, you might even consider having your shoes customized by individual artists with whatever design you want.  You can get custom hand painted Nike, Vans, Converse, and TOMS shoes through B Street Shoes.  And Dan Gamache is a pretty famous artist who creates Mache Custom Kicks for athletes, celebrities, and regular folks.  His designs can run over $1,000.
Customized vs. Custom Made

It's important to understand the differences between customized shoes and custom made shoes.  Customized shoes are what I've described above – those that use an existing shoe model and allow you to choose specific elements to make it unique, such as color, materials, and patterns.
However, a custom made shoe is one that uses molds of your own feet so the shoes fit your precise measurements and contours.  The mold is called a shoe last and it's usually made of solid plastic or wood.  Each last has specific heel and forefoot widths, instep height, and toe box depth. 
But having your own shoe last made and then building a shoe with your choice of materials, colors, and design is not something the average person can easily have done.  The process would be time consuming and very expensive.  This is why shoe companies use their own generic lasts to make all their shoes.
Some athletic shoe brands try to tell you their shoes are custom fit because they have adjustable or adaptive features that might make it feel like the shoes were made just for your foot.  There are several that have an inner sleeve that wraps around your foot, and some have memory-type foam that forms to your foot that eventually leads to a "custom fit."  But the only way to get a true custom fit shoe is to have it made from your own shoe last.
Why Do I Want Them?

Almost everybody wears athletic shoes these days, for a variety of sports as well as just everyday comfort.  Custom athletic shoes offer us a way to stand out from the crowd and to express our personalities. 
We are more willing to spend extra money on things that we have emotional attachment to, like clothes or shoes, than we would spend on other everyday items.  And social media certainly plays a part.  We post so many pictures and videos for the world to see, and we want to show our individuality and share our unique tastes.
Creating your own custom athletic shoes might really be an amazing feet!
Related: Shoe Features, Athletic Shoe Materials