What Are Athletic Shoes Made Of?
Have you ever wondered what materials make up your favorite sneakers? 
Although a huge variety of athletic shoe brands and styles are available today, the materials that make up these shoes have not always been as varied.  But shoe companies seem to be developing innovative shoe materials more frequently in recent years.
Athletic shoe materials can affect the weight, stability, durability, and comfort of your shoes, so the materials you choose should be based on how you are going to be using those shoes.
Here's a look at the main materials that make up our athletic shoes.
Parts of a Shoe
First, you need to know the parts of a typical athletic shoe.  The materials that make up these parts are what give the shoes different qualities. 
The upper is the whole body of the shoe that holds your foot from heel to toe.  The lower part of the shoe – the sole – is actually made up of several parts, the insole, the midsole, and the outsole.
The insole is the part inside your shoe, directly beneath your foot.  The midsole contains the cushioning materials of the shoe, and the outsole is the bottom of the shoe that gives you traction as it comes into contact with the ground.
When it comes to athletic shoe materials, most of the key differences can be found in the upper and the midsole.
Athletic Shoe Upper Materials
Let's begin with the shoe upper.  The materials and construction of the shoe upper are designed to provide stability, comfort, and the right fit.   
For many years, athletic shoe uppers were made from leather.  Leather makes a good shoe material because it's flexible but sturdy and durable.  It's breathable and can be stretched without easily tearing.
Reebok leather women's shoes
The negatives of using leather as an athletic shoe material are that it's heavy, it can make your feet hot, it can be expensive, and it can be damaged by water.  I remember how hot my feet would get back in high school when I wore leather basketball shoes!     
Women's canvas sneakers
Although leather is still used today, athletic shoes have more recently evolved for better performance and comfort.  This evolution has led to the use of lighter materials, such as canvas and more breathable and flexible synthetics and mesh.
Canvas is more breathable and lightweight than leather.  It's less expensive because it's made from cotton and linen rather than animal hide.  It's also durable and easy to clean.
A majority of athletic shoes today are made with lightweight synthetic mesh.  The mesh may be mixed with suede or nylon.  Although mesh is not as durable as canvas or leather, this material allows the shoes to breathe, which helps keep your feet cool and comfortable during workouts or everyday wear.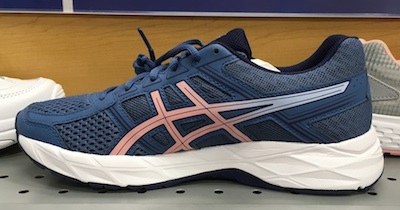 Asics mesh shoes
Mesh is softer and it can stretch, which gives your foot more room to expand throughout the day.  It also tends to be less expensive than leather.
The Benefits of Knits
A recent and very popular athletic shoe material is the knit.  You've probably seen knit shoes just about everywhere lately – they're the ones that look almost like socks that conform to the shape of your feet.
With leather and other materials, pieces are cut and sewn together and then glued to the sole of the shoe.  But with knits, the shoe uppers are woven by a machine and use just a single piece of yarn.
This process creates less waste because you only use the amount of yarn you need for each shoe.  There is no leftover material, and you don't need thread or glue to attach it to the sole.
Nike knit shoes
Also, by adjusting the density of the knitted material in different areas of the shoe, you can change the functionality.  For example, creating a tighter weave will give the shoe more arch support, and making it thinner will make the shoe more breathable.
You can also knit with different materials, such as carbon, wool, polyester, or even Kevlar.  Knitting allows shoe manufacturers to experiment with different colors and patterns, creating new styles more quickly.
The first commercial knit running shoes were released by Nike and Adidas in 2012.  The Nike Flyknit uses braided polyester along with filaments called Flywire placed in specific areas of the shoe for additional support.  Flywire loosens and tightens with your foot movement and helps reduce the weight of the shoe.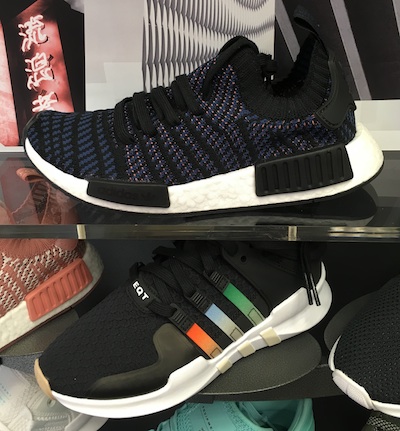 Adidas knit shoes
The Adidas knit shoe is called Primeknit.  It's digitally knit with fused yarn that allows the manufacturer to fine-tune the exact amount of flexibility and support needed in every part of the shoe. 
Other shoe brands are now making knit styles, including New Balance, Reebok, Under Armour, and Puma.
Midsole Materials
Although it's not much to look at, the midsole is really the most important part of an athletic shoe.
This is because the midsole is the layer of shock-absorbing material between the outsole and the shoe upper.  The construction of the midsole and the materials that make it up determine how much cushioning and motion control or stability a shoe has.
The cushioning materials in athletic shoes are usually made of ethyl vinyl acetate (EVA) and Polyurethane (PU), and the amount of cushioning is generally proportionate to the height of the shoe's heel.
EVA

is lightweight cushioning with less stability and durability.  It's made up of tiny air bubbles that absorb shock and provide cushioning. The material is injection molded into shapes that become heel supports.

Dual-Density EVA

is EVA that is twice as dense (makes sense, right?), making it stronger, heavier, and more durable.  It has double the mass in the same amount of space.  

Polyurethane

is a denser and more durable cushioning material.  Although it can add stability to a shoe, it also adds weight.
You can often see the difference between these two athletic shoe materials because they are different colors, reflecting their different densities.  The denser, more supportive polyurethane is gray, and the lighter EVA tends to be white. 
So the more gray material you see in your shoe's midsole, the more support it offers.  And the more white you see, the more flexibility and cushioning it will provide.
The midsole can also contain other cushioning elements such as gel and encapsulated air. 
In 1979, Nike introduced "air cushioning technology" that embeds small pouches of air into its running shoe midsoles.  The technology traps air molecules inside urethane material, and it compresses and recovers with each step you take.  The company expanded this technology to many of its other shoe styles in the years to follow.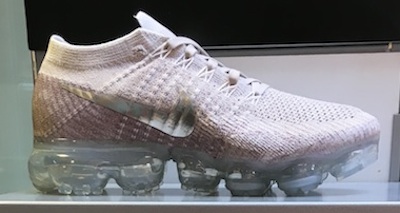 Nike Air VaporMax Flyknit
Reebok took this air technology further in 1989 when it introduced the Reebok Pump, which allowed the wearer to customize the amount of cushioning in the shoe.  A basketball-shaped "button" on the shoe tongue could be squeezed, moving air through the shoe into the forefoot and ankle by way of an inflator contained within the shoe.  You could then release the air through a valve on the back of the shoe.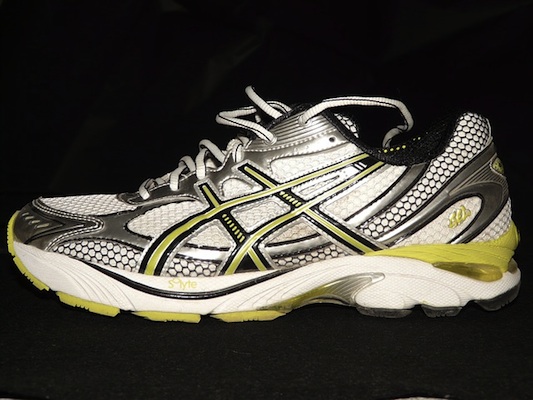 Asics with gel cushioning
In 1986, Asics was the first athletic shoe to use gel cushioning for comfort and performance.  The gel is designed for shock absorption and propulsion.
Recent Innovations in Athletic Shoe Materials
Athletic shoe companies continue to incorporate innovative materials in their footwear, with new developments coming so quickly that it's difficult to keep up.  Here are a few you can look for:
In early 2018, Adidas worked with chemical manufacturer BASF and introduced a new midsole foam, the Energy Boost.  The company claims that it provides the greatest possible energy return for runners.  The foam is made from hundreds of thermoplastic polyurethane (TPU) capsules and supposedly offers greater energy return, cushioning, and durability than EVA foam and can handle more extreme changes in temperature.
Adidas with Energy Boost
Not to be outdone, Nike also has a thermoplastic foam called Pebax, used in its Vaporfly 4% running shoes.  It offers lightweight cushioning that is soft as well as extra springy, which is a combination that is difficult to create.
Reebok has a similar foam made from Pebax, the FloatRide Run.  The company says it has lower density, making it lighter, more flexible, more resistant to impact, and more capable of providing a strong energy return with each step.
In the United Kingdom, the VivoBarefoot brand is trying out a foam made of a hybrid of EVA (ethylene vinyl acetate) and algae.  EVA is normally petroleum-based, but mixing it with algae creates a soft and pliable foam cushioning that's more eco-friendly. 
Traditional EVA is not really biodegradable and can sit in landfills for 1,000 years.  Brooks has recently been using BioMoGo, a compound that encourages anaerobic microbes to break down the midsole after the shoe is discarded.  This compound has been helping Brooks midsoles to degrade 50 times faster than ethylene vinyl acetate.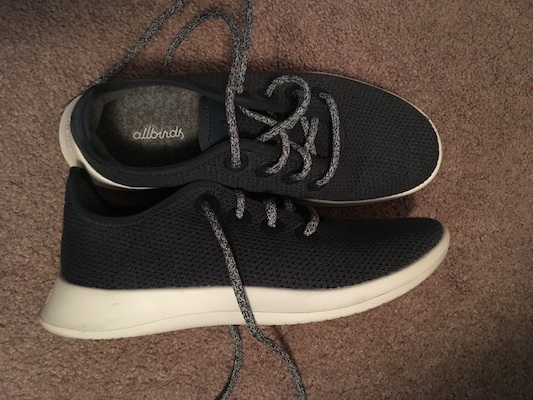 Allbirds Tree Runners
The Allbirds company makes its knit shoe uppers from the wool of merino sheep and eucalyptus tree fibers.  Both are renewable materials that are much more environmentally friendly than other shoe materials.  They've recently begun making soles for some of their styles from

Brazilian sugarcane, trademarked SweetFoam, designed to contour to your feet for bouncy comfort.
On running shoes feature a patented cushioning structure known as CloudTec.  Its open tubes run along the outsole to compress and absorb impact, and then they flatten out to create a strong platform to push off from.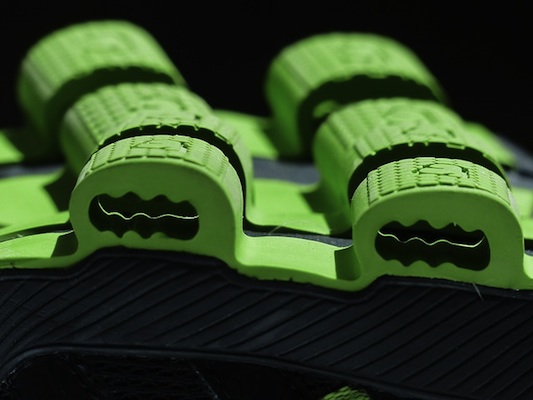 On shoes CloudTec cushioning
What Will We See Next?
As you can see, sneakers these days are made of more than just rubber and leather.  Athletic shoe companies are reacting to their customers' ever-changing needs and demands for increased comfort and greater performance. 
Companies are also working to lessen their environmental impact by using more eco-friendly athletic shoe materials and processes in their footwear development.  This not only saves our planet, but appeals to customers who feel strongly about environmental issues.
It will be interesting to see what innovative materials athletic shoe companies come up with in the future.  The options appear nearly limitless.
Related: Athletic Shoe History, Athletic Shoe Features