Why More Women Need Wide Athletic Shoes & Tips for Finding Them

Are you a woman looking for wide athletic shoes?  Then you are certainly not alone! 
These days, more than ever before, women have wider feet.  Therefore, they need to wear wider shoes.  There are a variety of reasons for this increase in foot width, but the most prominent cause is obesity.  Weight gain increases the flattening forces on your feet, causing the feet to splay or spread out, thus leading to the need for wider shoes.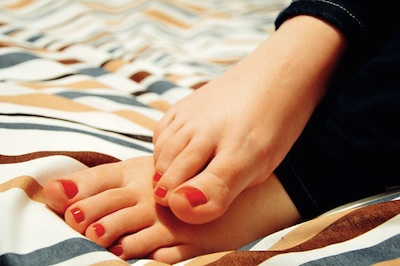 Injuries can lead to a wider foot, and your feet can also get larger and wider as you age.  This is due to gravity and the loosening of ligaments and tendons.  That's why it's important to measure your feet each time you shop for new shoes.  Don't assume that your feet are the same size and width that they have always been.
It's helpful to measure your feet at home to determine both size and width.  You can find details about how to do this here, along with some useful foot width facts.  Then you can take the information with you to stores or use it when shopping online to help you get the best fit.
This is Important!
Shoe Widths Are Not Standard

One very important factor to keep in mind when it comes to buying wide athletic shoes is that shoe manufacturers do not follow a standard width system.  This means that there is no across-the-board measuring definition of narrow, medium, wide, or extra wide shoes.
Athletic shoe designers have to use their own judgment when it comes to shoe widths, and they don't compare their shoe width measurements with each other to create a consistent system.  So a wide Nike shoe, for instance, isn't necessarily the same as a wide Brooks, New Balance, or Reebok shoe.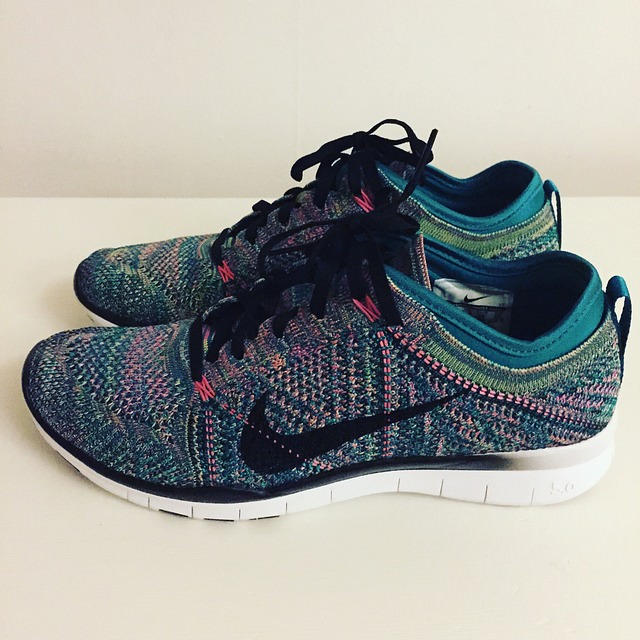 This means that the only real way to make sure a shoe is the right width for your foot is to try it on and walk around in it.  It's the right size and width if your foot lines up directly with the shoe's footbed.  Your heel should be completely against the back of the shoe, and there should be enough room in the toe box for you the wiggle your toes without rubbing against the front of the shoe.
What Are the Shoe Width Measurements?

You can find many versions of shoe width charts online covering shoe sizes in different countries.  Click here for an example of a U.S. width chart for women. 
Keep in mind that shoe widths are different between men and women.  The average or standard width for women's shoes is B, but for men it's D.  Widths also change as the sizes get larger.  For instance, a wide shoe in a small size may be a regular width shoe in a larger size because feet are generally wider as they get larger in size.
You may not be able to find the width measurement listed on a shoebox if it's the standard width because many brands only label them if they're not standard.  On the shoe itself, the width indication is usually found underneath the shoe tongue. 
The "W" next to the shoe size indicates this is a wide athletic shoe.
Width differences occur mostly in the forefoot of the shoe.  And no matter what the shoe manufacturer calls each width, there is typically about 1/8 inch difference between each width size.  Shoe companies achieve the different widths by using more material for the upper part of a wider shoe or by creating a slightly wider sole. 
Remember that wide athletic shoes only take into account the one-dimensional measurement across your foot.  But your foot is not one-dimensional.  It also has volume or depth.  A wide shoe can actually be too deep or not deep enough for your foot, so it's important to try different brands and styles to find the best one for you.
Some people have made the mistake of buying a larger size shoe because it's wider and fits their foot better.  But they really should be buying a smaller size shoe in a wider or deeper style.
Recommended Wide Athletic Shoe Brands

If you search online for wide athletic shoes, you will find that most of the popular shoe brands come in wide styles.  But according to Podiatry Today, New Balance and Brooks are the most commonly recommended shoes for wide feet.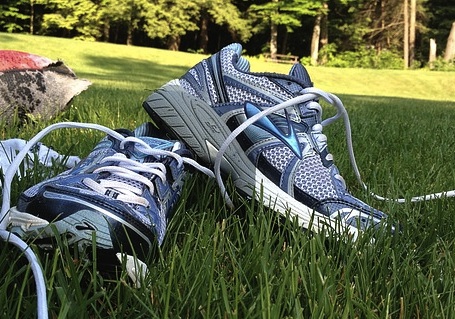 Brooks women's shoes
Other athletic shoe brands that have a good variety of wide styles include Dr. Scholl's, Propet, Ryka, and Skechers.
What About Narrow Shoes?

Although a greater percentage of women have wide feet, nearly 33% have narrow feet, according to the National Shoe Retailers Association.
Many podiatrists recommend New Balance athletic shoes for women with narrow feet, but some women find them to be too deep.  The Asics GEL Foundation 9 is the most narrow and shallow shoe you can find, and the Brooks Addiction 9 and Adrenaline 10 are also good options.  Mizuno, Nike, and Saucony claim to have narrow sizes as well.
Do you have any recommendations for finding wide (or narrow) athletic shoes?  Please share the details so we can help women who are struggling with this issue!  Simply send me a comment through the form at the bottom of this page, or share your shoe story on my Shoe Reviews page.