Women's Brooks Adrenaline GTS 19
Shoe Review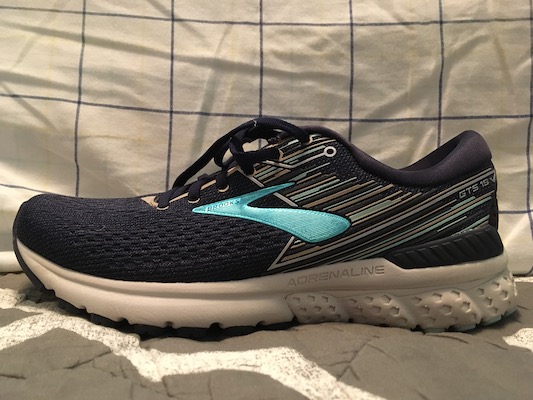 Women's Brooks Adrenaline GTS 19
If everything had gone as planned, this review would be for On Cloudflyer running shoes rather than for Brooks Adrenaline.
Let me explain…
The On brand was what I was originally searching for.  I had read about them and was intrigued by the shoe cushioning technology.  I found a specialty running shoe store in my area that carried them, and I went to check them out.
I tried on a pair of the On Cloudflyers, but I was disappointed.  They were definitely lightweight, which is good for running, but they felt like they lacked the support and cushioning that I prefer.
Luckily the guy working at the store knew how to help. When I told him that I wanted something with more cushioning and support, he recommended Brooks.  I'm not a runner, but I have family members and friends who are, and most of them really like Brooks.  I had never tried the brand before, but I decided it was time for a change.
Why I Chose Brooks Adrenaline
Brooks makes a TON of different types of running shoes, and the best choice depends on your specific needs and the surface you will be running on (or in my case, walking on).  I tried the Brooks Glycerin, but felt like the arch was a little too high for me.  The Adrenaline was a much better fit.
The sales associate said the Brooks Adrenaline offers a good combination of cushioning and support, and I'd have to agree.  They immediately felt comfortable and really soft. I felt more like I was walking on clouds in them than I did in the Cloudflyers.
The only color of the Brooks Adrenaline that the store had in my size was a boring gray, so I did not buy them there.  Instead I went home and found a cooler blue color on the Brooks website.  I was going to order them directly from Brooks, but then I realized I had a coupon from Dick's Sporting Goods, so I checked their website for the same shoe. They had it, so I ordered it from Dick's and saved $10 from the original price of $130. 
Shoe Specifications
The Brooks Adrenaline GTS 19 is designed for road running, and it's best for people who have flat or medium arches.  The GTS in the shoe's name actually stands for "Go To Shoe."  Anything that is called a "go to" item is considered to be reliable and sought out, or it's something you most commonly use or go to automatically without thinking. I guess Brooks wants you to think of this shoe in that way.
The reason the Brooks Adrenaline feels so soft is because it uses DNA LOFT, which offers Brooks' softest cushioning. It's made of a blend of EVA (Ethylene Vinyl Acetate), rubber, and air.  The rubber adds longevity to the midsole and ensures softness, while the air decreases the weight of the shoe.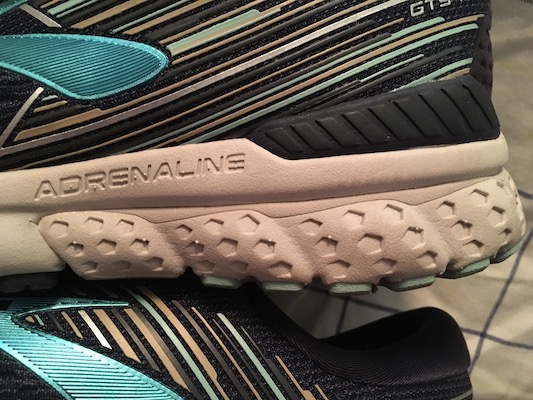 Brooks Adrenaline GTS 19 cushioning
It also has BioMoGo DNA, which is supposed to offer comfort but still give you responsiveness and durability.  BioMoGo DNA adapts to your weight, pace, gait, and running surface to give you a springier step that's customized for your stride.  The material is more environmentally friendly than other shoe cushioning materials because it's biodegradable.  A natural additive helps the material biodegrade 50 times faster in landfills than traditional EVA.
The padded tongue and shoe collar add to the cushioned comfort.  I can definitely see the difference in the padding between the Brooks Adrenaline and my older Adidas, and I can feel it too.  It makes my feet feel like they are cradled in softness.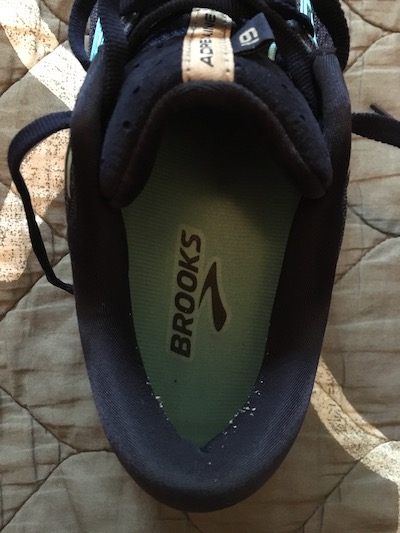 Brooks Adrenaline GTS 19 padded tongue and collar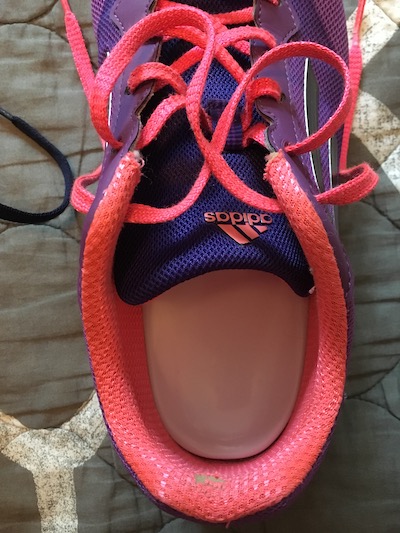 The Adidas tongue and collar have less padding
The upper is made of mesh for breathability, and it uses Brooks' 3D Fit Print technology.  This means the whole shoe upper is seamless, so you don't get any discomfort from seams rubbing against your foot, and it has a streamlined look. The mesh has a bit of stretch, but not too much, so it still offers strategic structure and a secure fit.
The shoe also has an Integrated Segmented Crash Pad, which basically means there are separate, individual shock absorbers on the outsole to accommodate any kind of foot landing.  The spaces help reduce the force of impact as it travels from the heel to the rest of the foot, delivering smooth heel-to-toe transitions.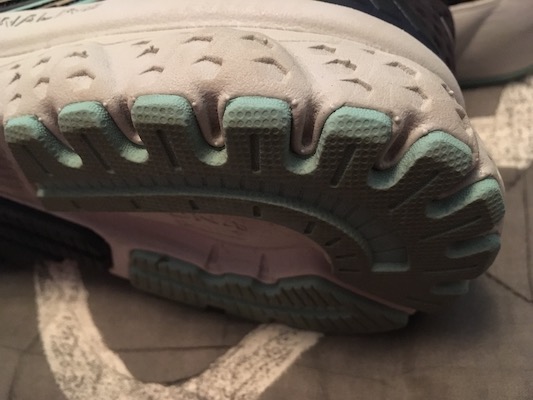 Brooks Adrenaline segmented crash pad
History of the Brooks Adrenaline GTS
Since this is the Brooks Adrenaline GTS 19, that means there have been 18 previous models going back to the first release in 1999. Over the years, Brooks has made changes to the design, weight, cushioning, and technology of the Adrenaline GTS to arrive at the model we have today.  You can see a very interesting description of some of the previous versions in this article.  However, it only covers the shoe up until the GTS 14 because it was written back in 2014.
The changes from the 2018 version to the 2019 version of the Brooks Adrenaline GTS include the DNA LOFT cushioning I mentioned previously, along with the GuideRails holistic support system.  This feature is designed to eliminate excess movement, which actually helps your knees, the most injury-prone part of a runner's body.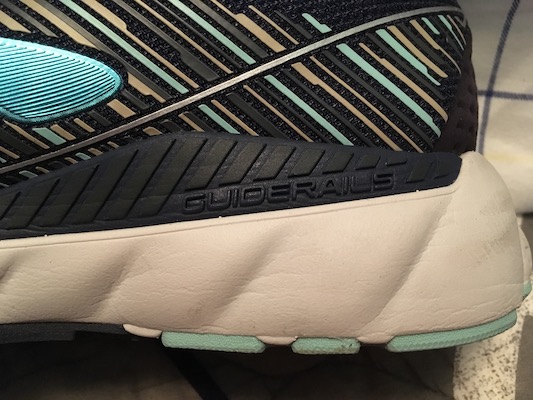 Brooks Adrenaline GTS 19 GuideRails support system
These GuideRails are kind of like bumpers in the game of bowling.  Like bumpers keep your ball in line and out of the gutter at the bowling alley, GuideRails keep your stride in line, allowing your hips, knees, and joints to move naturally.  
My Experience With These Shoes
When my Brooks Adrenaline GTS 19 shoes arrived, I tried them on and they fit just as well as the ones I tried on at the running shoe store. I wore them around the house for an hour or so and loved the way they felt.  They were comfortable immediately without having to break them in.
They were so comfortable, in fact, that I immediately wore them on my trip to an amusement park the very next day, and I walked 7 miles in them.
The last time I walked that far, my feet were pretty sore. But this time I felt fine at the end of the day, and I loved the way these shoes felt.  They were very comfortable and soft, cushioning yet supportive.  As I said before, when I wear the Brooks Adrenaline, I feel like my feet are being surrounded or cradled in softness.  There's really no other way to describe it.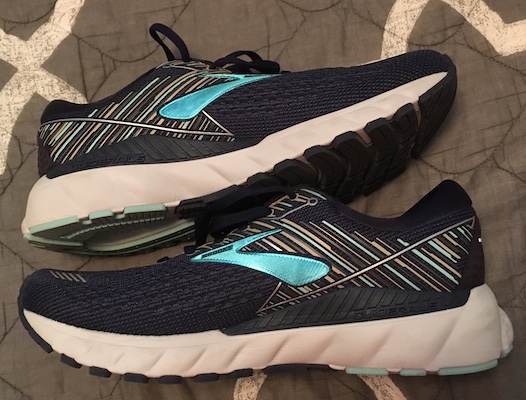 Brooks Adrenaline GTS 19 uses 3D Fit Print technology
They also don't feel too heavy, and I like the way the shoes look – the color, the seamless upper, the streamlined design.  I have a feeling that I may never go back to other shoe brands when it comes to the shoes I wear for walking and working out.
If You Want to Try Them Yourself...
The Brooks Adrenaline GTS 19 is available in women's sizes 5-13 and comes in narrow, medium, wide, and extra wide widths.  The variety of colors includes everything from subtle and neutral to bright and noticeable.
You can find them on Amazon as well as the Brooks website.